You have got your large TV screen or the latest gaming console. But if you are relying on your flatscreen TV's built-in speakers for sound, you are intentionally wasting the potential of new-age technologies. It doesn't matter how big your TV screen is or how high the resolution is. If you don't get the great sound of your favourite shows, songs or movie, then you are getting half the experience.
In order to relish the entertainment value while watching TV, you can invest your money in the best home theatre system. Of course, modern-age televisions have become slimmer, sleeker, and image quality has also improved, but there is not much improvement in speakers. The audio quality is still average in even expensive TVs.
That's one of the key reasons why people across Australia are buying external speakers or home theatre systems to get the most realistic and impressive audio experience along with high-quality visuals. The Australian market has an ample range of options, a variety of brands and models to best fit your specific needs within your estimated budget. Below you will find a perfect home theatre system with the help of the details we have gathered for you.
A Home Theatre System: Enjoy Cinema-like Sound at Home
With the constant evolution of technology, it has become imperative to keep yourself updated, especially when you are buying something new. A fully-featured home theatre system is one of those new-age technologies that have changed the way people watch TV at their homes.
It is commonly defined as video and audio equipment set up in your home that boosts the movie theatre experience. A perfect device is the one that can provide you with impressive A-V experience. In simple terms, this particular device is a combination of electronic components that are designed to recreate the experience of watching a movie in a multiplex theatre. However, making the right choice is not an easy thing. You need to look for the best brand and model that match your needs and price range.
Basic Components of a Home Theatre System
There is no denying that home theatre system means the visual and audio appliances that you can utilise for entertainment at home. But it is commonly referred to the audio system used along with TV and other entertainment electronics. Here is the list of some basic components that you should know before making the buying decision:
Receiver
This is the major part of the appliances that control everything. All you need to do is to plug in all video and audio inputs and outputs. This includes your TV, speakers, Blu-ray player, game consoles and much more. Being the hub, the receiver sends video signals to the audio signals and Television to the speakers for output.
In short, the receiver is needed to organise as well as manage all the inputs and outputs of your electronic appliances so that you can enjoy audio-visual representation without any hindrance. You can adjust the volume on one device without even using more than one remote control.
Key components of the receiver:
Audio and video inputs
Surround-sound decoder or signal processor
Preamplifier
Power amplifiers for sound channel
Outputs for TV and speakers
Front Speakers
If you really want to get the most out of your home theatre system, then look for the model that offers front speakers along with rear ones. Installing a speaker at each of the four points around the home leaves a great impression and automatically boosts the sound experience. It can transform your normal living room into a home theatre.
Rear Speakers
Do you want a surround sound effect while watching your favourite movie at home? If yes, then buy a home theatre system that comes with rear speakers (left and right). It is always good to put speakers to the left and right of the rear of the seat if you want to leave an impressive impact along with the visuals.
Centre Speaker
This includes one tweeter speaker in the unit. In order to experience higher-pitched sound, you can ask for the model that comes with a centre speaker. This will ensure the excellent quality of audio across the room and also gives a real feel to the one who is watching the TV.
Subwoofer
A speaker on your wooden table is specialised for deep sounds. This will enable the device to produce theatre-quality rumbles and booms.
Note: Though you can purchase each of these components, you can buy a pre-assembled home theatre package- it will cost you cheaper.
Different Audio Technology Terms
It is actually fun to know that there are heaps of different technical terms when it comes to using a home theatre system. If you are planning to buy the best one, then you should be aware of the following audio technology terms:
Channel
Channel referred to the number of audio speakers involved in a home theatre system. There can be more than two speakers in one unit, but soundbars like designs, you won't get multiple speakers.
Stereo
The stereophonic sound usually utilises two channels for sound. This can be each reached to the different speaker to make a variety of sounds come from different directions.
1 Number
This particular number is used either for the configuration of the speaker system or the audio signal format. The "1" number refers to the number of speakers come with the unit.
Piezo
They are commonly known as piezoelectric speakers that are ideal for creating high-frequency sound.
Best Home Theatre Systems in Australia in 2020
In order to boost home viewing experience, you should invest your money in buying a good theatre system. It can add extra realism to the sports, movies and music concerts. Here is the list of best products available on the Australian market. Pick the most suitable one, depending on your budget and specific requirements.
Sony HT-RT40//M AU1 5.1 Ch Home-Theatre System, Black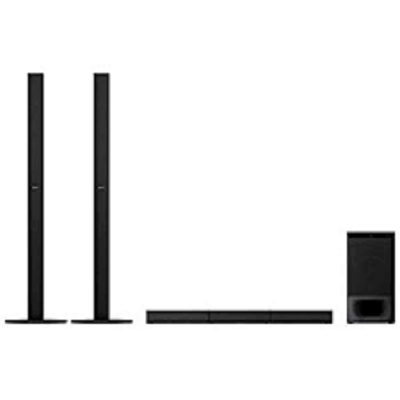 Do you want to feel the best sound experience while watching your favourite movies and games at home? If yes then buy Sony HT-RT 40//M AU1 5.1 Ch Home Theatre System. It comes with a 600W power output, great sound performance functions and other advanced features to enhance your viewing experience.
The system packs with tall boy rear speakers with floor stands and a subwoofer that work together to produce clearer and full-frequency sound across the room. Plus, there is a 3-Channel soundbar that will create exceptional cinema surround sound, giving you the feel of realism.
There is also an NFC and Bluetooth connectivity to let you relish your favourite songs wirelessly. All you need do to is to stream them via your smartphone and connect to Bluetooth wireless technology in a single touch. Isn't it simple?
The best part about this model is that it comes with easy to setup procedure. You can do this by plugin and connect your speakers through colour-coded wires and enjoy 5.1 channels of original surround sound. The system not only produces great sound but also enhances the overall look of your living room.
Creative Inspire T6300 5.1 Speakers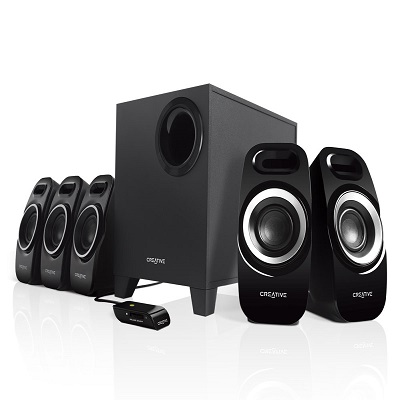 This high-quality, impressive and sleek design home theatre system by Creative Inspire comes equipped with 5.1 speakers to take your viewing experience to the next level. The model comes with a full spectrum of audio that offers enhanced mid-bass technology and finest sonic imaging.
There is an improved Creative IFP design, offering an additional flare surrounding the satellite driver to offer a wider sweet spot. This enhances sonic directivity to the listening area – setting the bass of the music while preserving tonal accuracy.
The speaker system is equipped with two larger, distinctive front satellites, three smaller rear and centre positional satellites to produce impactful sound across the room. The entire setup is perfect for enjoying cinematic viewing experience, especially while watching a favourite movie on the couch.
Yamaha 5.1 Channel Home Theatre (YHT1840B)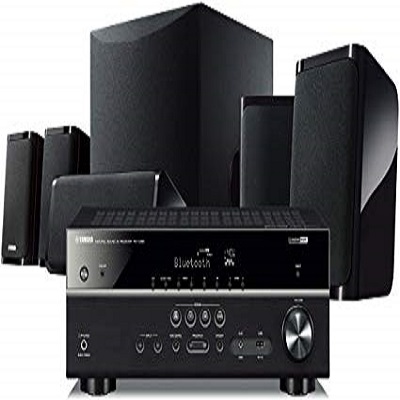 Yamaha's home theatre system boasts of highly-advanced features including 5.1 channel robust surround sound, HDMI with 4K Ultra HD full support and Bluetooth connectivity features
There is also a Virtual Cinema Front which specialises in providing virtual surround sound using 5 speakers to give you realistic experience while watching TV at home. The surround, front and centre speakers are capable of producing HD-audio, and the subwoofer can deliver clean and clear bass to give you exceptional sound experience.
The AV receiver comes with YHT1840B model is compatible with audio return channel, CEC and 3D for seamless and easy operation. Plus, the menus can be seen in different languages such as English, Spanish, Chinese, French, etc. The clean design not only matches the high sound quality but also can be placed in any location of your room.
Jamo A102HCS3 5.0 CH Home Cinema Theatre Speaker System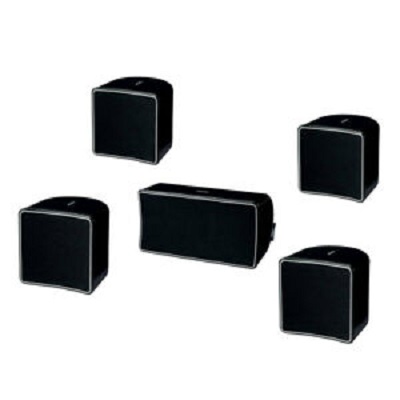 Jamo is one of the renowned companies that take pride in delivering innovative products to make your viewing experience exceptional. Jamo's A102HCS3 5.0 CH Home Cinema Theatre Speaker System is the best products in 2020. The model comes with compact but high sound quality speakers to produce a louder sound.
The A 102 satellite speaker looks sleek but delivers the best sound performance, and that's why it is the centre of attraction for many potential buyers. Plus, there is a 2-way configuration which includes a .75-inch tweeter speaker and a 3-inch woofer to enhance surround sound to your favourite songs or movies.
The compact designs allow you to install this home theatre system in any room as it won't take much space as compared to other giant home theatre systems.
Harman Kardon HKTS 16BQ 5.1 Channel Home Theatre Speaker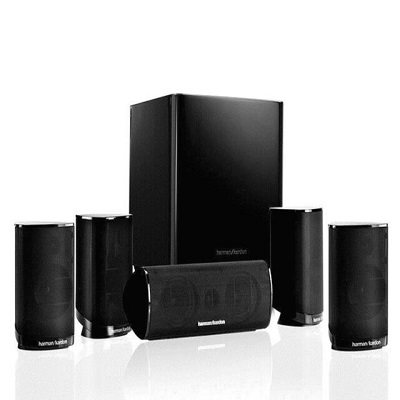 The model has five voice-matched satellite speakers for left/right front, centre, and left/right surrounds channels to reproduce exceptional sound quality. Plus, there is a 200-watt powered subwoofer for a clearer and louder sound to give you a cinematic viewing experience.
The speakers and subwoofer combination is perfect for creating an unforgettable experience while viewing your favourite movie, TV show, sports or music concert at home. It will create a 360-degree surround-sound environment to give a realistic and rich sonic performance with louder sound effects.
If you are looking for a good-quality home theatre system that reproduces deep and resonant sound, then this model is ideal for you. The brackets are seamless and unobtrusive –making it easy for you to set up in any room.
Frisby Home Theatre 5.1 Surround Sound System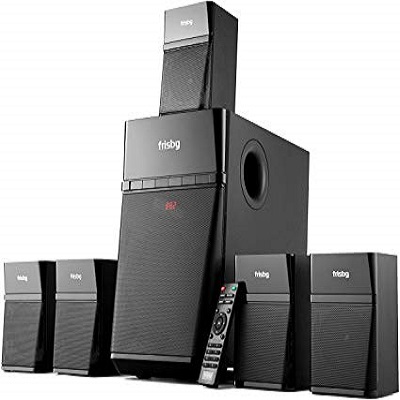 Frisby Home Theatre 5.1 surround sound system comes with many great features including powerful subwoofer, FM radio, Bluetooth connectivity, digital optical output, additional ports and a lot more. This is a complete product that lets you connect the cables and power it up in a matter of a few minutes.
The home theatre system promises to reproduce deep and powerful sound – thanks to the 5.1 surround sound system, 40 watts of subwoofer and 15 watts per channel. Set-up this device in your living room and enjoy your favourite movie with cinematic viewing facility. The sound reproduced by the speakers will make your AV experience more memorable and gives you a realistic feel.
BEFREE SOUND BFS-425 Speaker System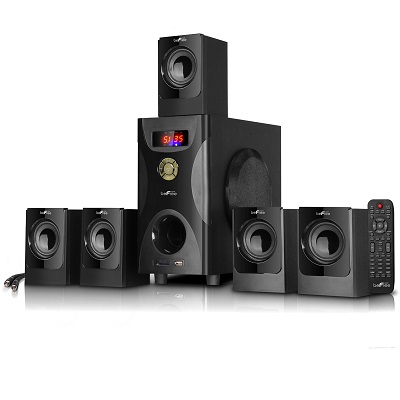 Are you one of those who love to spend weekends at home? If you love watching movies at home, then buy this super-powerful speaker system today. It lets you enjoy the home theatre experience as it comes with 5.1 channel surround sound for better sound quality. Plus, the system has Bluetooth connectivity that allows you to play all your favourite songs wirelessly without any hassle.
The best part about this speaker system is that it is beautifully designed and looks perfect anywhere in the room. Its smooth yet deep sound performance makes it one of the ideal purchases among the people across Australia. It also has SD, USB and FM radio capability to provide you with the seamless listening options.
Bose Acoustimass 10 Series V Home Cinema Speaker System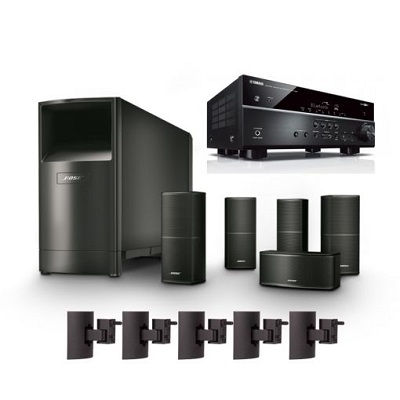 Bose Home Cinema Speaker System and Soundbars bring out the best when it comes to investing money in new-age entertainment technology. The company is giving you one more reason to enjoy cinema-like sound at your home with the introduction of their new product.
Bose Acoustimass 10 Series V Home Cinema Speaker System offers powerful surround sound for larger rooms. The reflecting series speakers have a sleeker profile but reproduce deep and resonant sound from different directions. There are also adjustable controls to manage the volume and frequency effects.
The best part about this device is that it comes with clearly-marked connectors and cables for quick and easy setup.
To transform your room into a theatre hall, then install this super-powerful system and enjoy watching your favourite movie from the comfort of your sofa.
Compare & Pick the Best Home Theatre System
Buying a perfect home theatre system is something that needs thorough research, proper knowledge and of course, time. You will need to consider the number of subwoofers and speakers you need along with the size of your room and how you will use the device. These factors play a vital role in your buying decision.
Since they are not cheap, make sure all the models and brand available in the market meet your specific needs. You should pick the one that can give you quality sound performance, easy to set-up, powerful subwoofers, Bluetooth connectivity, at least 5.1 channel surround sound and sleek design.
Also, keep the pros and cons in mind while buying the dedicated home theatre system. Make a comparison of different brands and models to find the perfect match. This is one of the best ways to choose the speaker system that can take movies, music and sports on your TV to the next level. It allows you to enjoy cinema-like sound effect at home.
Buying Guide: Things to Consider while Buying a Perfect Home Theatre System
When it comes to watching a football match or movies at home, the basic speaker won't give you the ultimate experience. Most of you might consider setting up sound bars for your living rooms. Of course, they are convenient and provide great features as compared to built-in speakers of the TV. Still, the sound performance won't complete the performance of a cinema hall. In order to achieve an unforgettable cinematic experience, you should invest in the best home theatre system. Since there are a variety of brands and models available on the Australian market, make sure you make the right choice.
The following guide will help you find the perfect home theatre system :
Budget
An estimated budget plays a vital role in buying decision, especially when it comes to investing in new-age entertainment technology. Your budget would reduce the home theatre options, so make sure you know your financial resources before buying a high-quality home theatre system.
Space
Most people spend a lot of money on setting up the interiors of their room or on the TV set. However, amplifiers and speakers are the most neglected items. If you have a small house, you can look for a home theatre system that utilises bookshelf sized speakers (compact design).
In case you have a large room, you can opt for a 7.1 setup with a system that comes with floor standing speakers. You will get more options when you have a spacious room.
Speakers
The speakers are the heart of any home theatre system. They play an imperative role in producing high-quality audio performance. When you search the market, you will get home theatre systems with built-in bookshelf speakers, and some come with floor standing speakers.
Usually, these systems offer a 5.1 channel or 7.1 channel speakers. Plus, there is a subwoofer that recreates low frequencies while others are satellite speakers for the center, front and rear channels. So, when you set up your home theatre, you can place the speakers on the floor and put the four satellite speakers in different directions of your room – this will give cinematic experience.
Power
Watts are denoted for the total power output of your amplifier. To give the optimum power to the speakers, make sure your receiver is strong enough. For higher performance, you should opt for an A/V receiver that offers a minimum of 100 watts of power to each channel.
The A/V Receiver
The A/V receiver is the major part of any home theatre system. The leading brands are introducing fully-featured A/V receivers to enhance the overall performance of their products. However, a variety of models available on the market may create confusion among buyers. In order to choose the right device, you should ask everything about the A/V receiver and its features.
Key Advantages of Having a Perfect Home Theatre System
Nothing can be more relaxing than chilling at home and watching your favourite movie with our family. To creating a multiplex theatre-like experience, you can buy and install the best home theatre system. Here are the key benefits of buying a feature-rich home theatre:
1. Get Impressive Experience without any hassle
When you have a home theatre, you don't have to spend your entire day in buying tickets or finding a place for parking. You can watch whatever you want to on your couch in the house and enjoy the superior quality of sound. Eat your favourite pizza with a glass of wine and enjoy the movie with your family.
2. Take your video games to a higher level
It is possible to take gaming to the new level with a dedicated home theatre system. These days, video games become more advanced, with HD quality videos and realistic sound experience. It has the potential to take to their world of games. With a home theatre, you can get a complete different experience and make your game more realistic.
3. Ensures Comfort
In today's hustle-bustle life, getting time for a movie is quite tough. During weekends, we all want comfort along with some quality entertainment. With the purchase of a home theatre system, you can transform your room into a theatre and watch movies in the most comfortable way. It gives an excellent sound experience. You can even stop a movie and grab your food or use the bathroom as per your comfort.
Whether it's about watching a movie, a football match or a music concert, having your own theatre at home gives you the flexibility to enjoy it without any stress or discomfort.
4. Excellent Sound Quality
When people install a home theatre, they start thing about acoustics and sound early on because it plays a vital role in giving a seamless and realistic viewing experience. The size and shape of the room, speaker and placement of furniture also play a crucial role in determining how sounds behave in a room. However, in a home theatre, you will not have different sound effects or scratchy feedback. Just enjoy the finest audio and video quality at home.
5. Best Fits to any Room
Yes, you can install a home theatre system in any room. Though basements are good because they are quiet and dark, you can enhance your room by giving it a new look. People have transformed bedrooms, garages, offices and playrooms into home theatres using innovative ideas. You can also do the same.
6. Fun to use
Entertainment technology has gained a lot of popularity for the last few years. It is simple, fun to use, and user-friendly. Technologies like home theatre systems come with advanced features, unique designs, and innovative concepts.
Downsides of Using a Home Theatre System
There is no doubt that installing a home theatre system in a room gives an excellent viewing experience. Here are cons of using a home theatre system:
1. Expensive
Buying a home theatre system is an expensive deal. Most people overlook spending money on purchasing the feature-rich home theatre due to their prices. However, you can look for affordable options available in the market that can best fit your specific needs. Do your research and find the most suitable one within your estimated prices.
2. Overtake other activities in the room
A home theatre system usually takes up extra space, a wall and other areas of the room where you set up your speakers. If you are trying to do something other than watching a TV and others are watching TV, the sound will take over the other activities happening in the room.
That's why it is recommended to create a separate room for the home theatre system.
Why Do We Need?
The sound coming from your flatscreen TV is probably not as impressive as the speaker system would be producing. While it is quite an expensive investment, but having a dedicated home theatre system can be worth to get the best quality of audio experience – whether you are watching sports, video games, Netflix or movies.
One of the flaws of modern-age televisions is that they can't come equipped with great speakers. That's why cinema halls and theatres use multiple speakers and amplifiers. Bigger amplifiers and speakers produce clearer and louder sound across the area.
The other issue is that when sound comes from a single source, it can diminish the real impact. On the contrary, when produced from different directions, it gives a clearer and realistic feel to the listeners.
When you have installed speakers in different areas, your audio output can be programmed to send off specific parts of the sound from different speakers. In short, it gives a better experience and takes your viewing experience to the next level.
If you really wish to create a home theatre by installing advanced entertainment technologies, you need to focus on the following elements:
A large and modern-age television (more than 27 inches) with high-definition picture quality.
Four speakers (minimum)
Tools for splitting up the sound-around signal and sending it to the sets of speakers.
If you are not looking to invest more and already have a TV and a stereo system, you can update the system into an exceptional home theatre — all you need some extra speakers. However, you can also buy a good quality of theatre that has built-in speaker systems with great quality.
Conclusion
Experience the better sound by investing in the best home theatre system and enjoy your favourite movie, music and TV shows at home. Here is the complete buying guide to help you make the right decision and pick the most sought-after product depending on your needs as well as an estimated budget.
You can consider all the information and look at the best home theatre systems in Australia for 2020 for wider and greater cinematic viewing experience. The tips mentioned above in this article will help you make the informed decision without giving you a hint of stress.