It may have never occurred to you, but waking up with a stuffy nose, or constant drying of your hands might be a result of the dryness of the air in your house. When the humidity levels or moisture in the air go down, it can become too dry for your comfort. Many respiratory problems get aggravated in such an environment, and it can affect kids and adults suffering from asthma and sinus issues.
The winter months are especially prone to such conditions and can take away the warmth out of the joyous season. Thus, bringing home a humidifier is a good idea to maintain optimum humidity levels and breathe easy. Also, keeping the surroundings neat and clean can help in removing the pollutants from the air for hygienic living. With a growing emphasis on the sanitation of homes, several people rely on professional Vacate cleaning in Perth to get rid of the accumulated dust, dirt, debris, and germs hiding in their abodes. Besides top to bottom cleaning carried out by professionals, the addition of a humidifier can do wonders in making your residence a haven of freshness and well-being.
With perfect air in the house, it is easier to relax and feel rested during all the seasons and occasions. Your skin will not feel parched and flaky, and you can breathe comfortably even when you are down with common cold or flu. Air humidifiers are also helpful in reducing snoring due to congestion in adults.
However, most people are confused about making the right choice when it comes to buying the device. Since the market is flooded with a variety of models and makes, shopping for the perfect one can leave you dazed. To make things easier, we bring you the list of the best humidifiers for fresh air in your home that help in balancing the moisture and relieve you from congestion problems.
What Is A Humidifier?
A humidifier is an electronic device which adds moisture to the air in a room. It is beneficial in those enclosed spaces which use heating appliances that increase dryness in the atmosphere during winters. Low humidity levels inside the house can dry up the mucous membrane and can have a damaging impact on various household items like wooden furniture, books, paintings, etc.
Also, declining moisture can make the dust stick to the electrically charged surfaces and the premises unhygienic. Thus, it is recommended to maintain a relative humidity of 30% to 50% in your home, which can be effectively achieved with the help of an air humidifier. However, they should not be overused as it can lead to other health problems. You must use them according to the instructions mentioned on the packaging and do not go overboard with your enthusiasm for displaying it to your friends and relatives.
They come in different sizes and capacity ranging from portable and room humidifiers to whole-house humidifiers. The device is being increasingly used in homes to create a relaxing environment. Also, baby humidifiers are considered highly beneficial for comforting the infants and kids suffering from congestion and dry cough during the flu season.
Types of Humidifiers
Although all humidifiers do the same job, they come in different types to cater to the varying needs of the customers. Here are all the variants listed for you.
Impeller Humidifier
Also known as cool mist humidifiers, these devices involve the rotation of disks at high speed which throw up a cool mist in the air. They are affordable and safe to be used around children and pets as they do not cause burns. They do not heat the water so you must clean them often to avoid settlement of germs and mould inside the tank.
Steam Vaporiser
These humidifiers work by heating water and then cooling it off to disperse the vapours into the room. These portable devices are readily available in the market and are affordable too. Since they boil the water, they are helpful in killing the germs present in the water before releasing the vapours. Thus, they diffuse clean and moisturised mist that aid in relieving all breathing troubles. However, they can heat up and cause burns in inquisitive children and pets. Some of them can be used for aromatherapy and creating a fragrant mist.
Evaporates
These work with the help of a single unit system which is powered by fans that send out the humidity in the air. The device comes with a moistened filter that helps in creating moisture in the environment. They make a significant humming noise and need regular replacement of the filter to maintain the device.
Ultrasonic Humidifier
It produces both cool and warm mist using ultrasonic vibrations and makes a minimal sound while operating. It uses high-frequency sound waves to produce a mist that effectively moistens the surroundings within a room.
Best Humidifiers to Buy in Australia
The quest to find the best match for your requirement can make you confused. We bring you the list of the top-rated and highly regarded devices which are considered the best humidifiers to buy in the country.
Pure Enrichment MistAire Ultrasonic Cool Mist Humidifier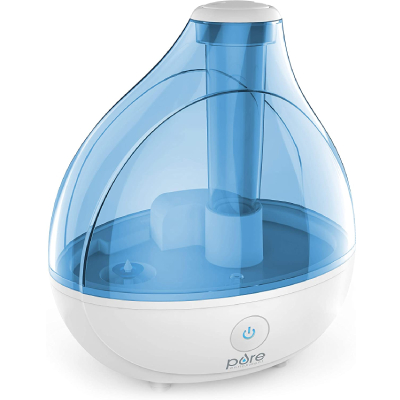 The premium product is fitted with a 1.5L water tank and offers quiet operations. Lasting for up to 16 hours, the Pure Enrichment MistAire Ultrasonic Cool Mist Humidifier is the best humidifier in the market at present. Utilising the ultrasonic cool mist effect, it moisturises indoor air continuously for 16 hours. The settings panel helps in adjusting the level of mist and its direction to enjoy a good night's sleep or a lazy day with family. It has an optional night light which has a relaxing luminance that does not disturb your sleep. The best part is that it gets automatically turned off when the water evaporates to save electricity and the device. It comes with a 5-year warranty which makes it highly sought-after among the buyers. It is one of the best humidifiers and has the maximum number of top ratings and reviews.
Vicks Mini Filter Free Cool Mist Humidifier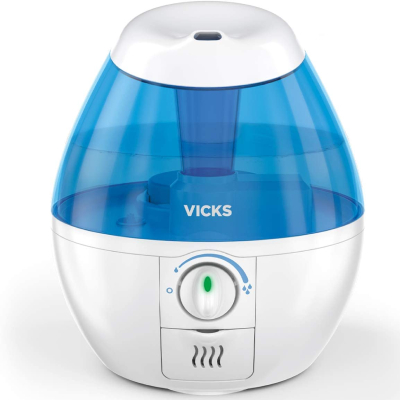 If you are looking for a baby humidifier, then you must invest in a trusted brand that has been an industry leader for years. Perfect for a nursery, kid's rooms, and bedrooms, the Vicks Mini Filter Free Cool Mist Humidifier boasts of a 0.5-gallon tank that lasts for up to 20 hours. It does not need replacement of filters and is quiet while operating, which makes this compact device ideal for the little ones. It is apt for adults too who suffer from allergies and long for a relaxed sleep at night. The best part about this machine is that it works wonders for those suffering from cough and congestion problems. It is especially helpful in putting kids to rest when they are coughing profusely. During such situations, it is better to keep the surroundings dust-free with the help of a cordless stick vacuum. The machine comes with an integrated Scent Pad Heater that aids in the utilisation of the Vicks VapoPads, which radiate a soothing scent. The translucent design helps to keep a check on the water level, and the device has an inbuilt auto shut-off mechanism. Its small size makes it a favoured baby humidifier for small rooms.
Buy Now
Honeywell Germ-Free HCM-350 Cool Mist Humidifier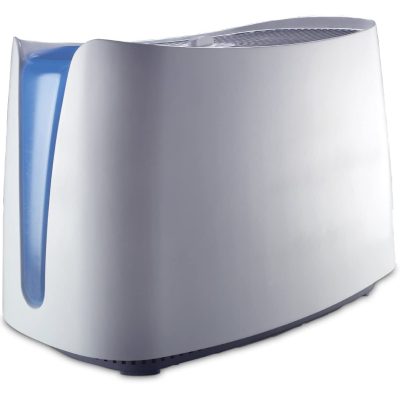 The 1-gallon capacity device boasts of a patented germ-killing mechanism that destroys up to 99.9% water-bred bacteria, mould, and spores. The Honeywell Germ-Free HCM-350 humidifier is 25% quieter than other devices in its segment. It moisturises the air with a cool mist and comes with three speed adjustments along with a setting for the sound level. The easy to manage and clean machine has a dishwasher safe tank and tray. The tank is break-resistant, which makes it exceptionally durable. It gives a maximum run time of up to 24 hours and comes with a 3-year warranty. It is also one of the highest-rated products in the market, but it is priced a bit higher than the other brands because of its reputation.
Homasy Cool Mist Humidifier/Essential Oil Diffuser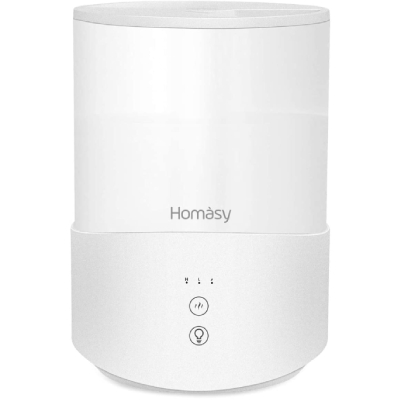 If you are planning to buy a cool mist humidifier that helps in creating an inviting fragrance, then you must purchase this model. The beautiful to display Homasy Cool Mist Humidifier comes with a 7-colour LED mood light and a sleep mode. Apt to be used as a baby humidifier, this machine has a 2.5L tank which is easy to refill. Its simple usage allows you to add a few drops of essential oil in the tank to enjoy a fragrant day with your family or friends. It creates 360-degree uniform humidification and works on the ultrasonic mechanism. The air humidifier boasts of a top-fill and easy-to-use design which does not require the tank to be removed for filling. It is a wonderful addition to your house for enjoying hygienic house parties and get-togethers. The mist levels can be adjusted, and the machine is made up of kid-friendly material which makes it safe to use at home.
TaoTronics 4L Ultrasonic Cool Mist Humidifiers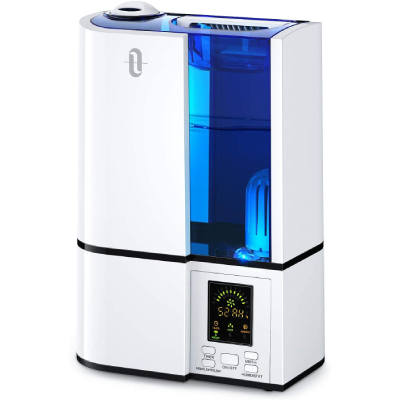 The product has a large 4L tank which works all night without the need for refilling. It can hold up to 1 gallon of water which lasts for 12-30 hours. The TaoTronics Ultrasonic Cool Mist Humidifier is effective in spacious rooms and can even be used as a baby humidifier because of its quiet operation. It comes with an LED display which has an in-built Humidistat that informs the user about the current RH and allows him/her to adjust the humidity and mist levels. The night mode extends the advantage of enjoying a sound sleep by turning off the LED display lights and shutting off automatically when the water is utilised by the machine. It has microporous cartridge filters which aid in removing germs and bad odour from the water. The filter needs to be replaced after 4-6 months, depending on the usage of the device. The high-quality product is considered one of the best humidifiers for creating a clean and balanced environment.
Vicks 1-Gallon Warm Mist Humidifier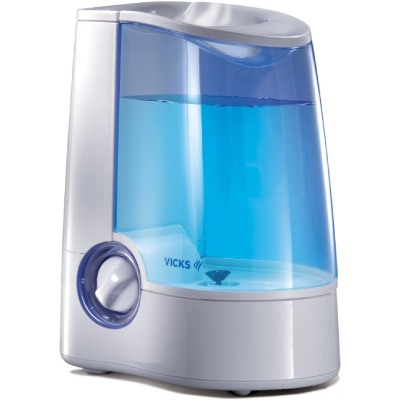 While cool mist humidifiers are quite popular among the buyers, there are several takers for warm mist humidifiers. The Vicks 1-Gallon Warm Mist Humidifier helps in reducing airborne viruses that lead to common cold and flu. Recommended for congestion relief, the machine can be used to release medicated vapours with the help of Vicks VapoSteam. It releases 95% germ-free warm mist in the air. The device is highly beneficial when the kids or adults in the house are going through fits of dry cough and are unable to sleep at night. The warm mist helps in hydrating the dry throat and nasal passages to relieve the discomfort and helps to sleep without disturbance. Thus, it can be used as a baby humidifier as well as an air humidifier. The moisturised air also aids in keeping dry skin and cracked lips at bay during winters.
Expower 500ml Cool Mist Humidifier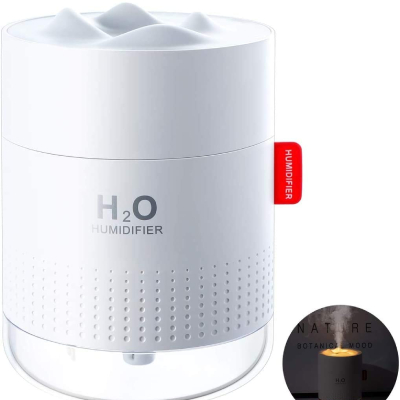 If you are looking for something small and compact that does not take up much space in your room, then the Expower 500ml Cool Mist Humidifier is the best choice for you. The quiet machine has a night light and works for 10-16 hours at a stretch. It is perfect to be used as a baby humidifier, yoga room air humidifier or office humidifier. It offers continuous and intermittent mist adjustments and comes with LED and night light display. Working on the ultrasonic technology, it is quieter than other devices and makes less than 30dB sound. It comes with the auto shut off mechanism which switches off the humidification process as soon as the water runs out. Thus, there is no chance of damaging the device, which is powered by a USB cable. It can be charged with the help of computers or a power bank.
BEURER LB37 Air Humidifier With Aromatherapy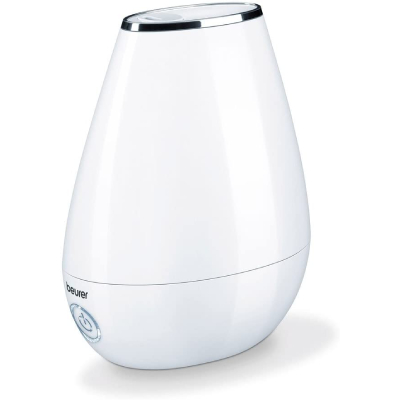 The Beurer LB37 Air Humidifier utilises the micro-fine ultrasonic atomisation technology to make the ambient air moisturised. It is recommended in homes where the ambient air has become dry due to prolonged use of air conditioning or heating systems that cause stuffy noses and flaky skin. It comes with an aromatherapy tray that can be used to add essential oil for a fragrant mist that lends a calming and soothing experience. Eucalyptus oil is recommended for relaxing the nasal passages of people suffering from cold and lavender is suitable for a good night's sleep. It is quiet in operation, which makes it useful in the bedroom at night and consumes less power that helps in achieving energy efficiency. It is suitable for rooms of 20m2 and offers an output of 220ml per hour. The humidity levels can be adjusted with its two control settings, and the removable 2L tank can be easily refilled. The auto shut-off mechanism makes sure that no problems occur if you are sleeping with the device plugged in.
InnoBeta Cool Mist Humidifier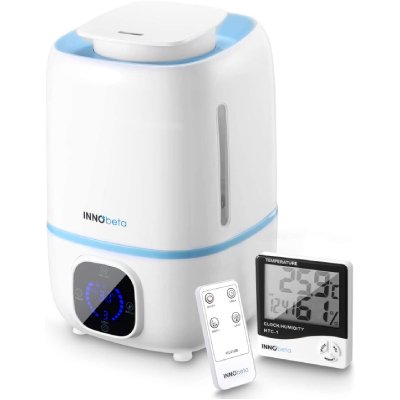 The 3L ultrasonic humidifier is apt for large rooms and the work-from-home office set-ups. InnoBeta Cool Mist Humidifier is also one of the best baby humidifiers because of its quiet nature and auto shut-off technology. Its unique features include touch panel with remote control for adjusting the settings and thermo-hygrometer clock for temperature and humidity checks. With its large capacity, it is an ideal addition to your home as it lasts for the entire night. The see-through window allows the user to keep a check on the water levels in the tank. The large opening of the tank allows easy refilling and cleaning to maintain optimum hygiene levels. The superior controls come with an in-built timer, nightlight, and vapour flow adjustments. The remote control is useful for older people and those suffering from mobility problems. Perfect for all age groups, the machine helps in relieving problems like dry eyes, congestion, dry skin, etc.
Arovec Cool & Warm Mist Ultrasonic 6L Humidifier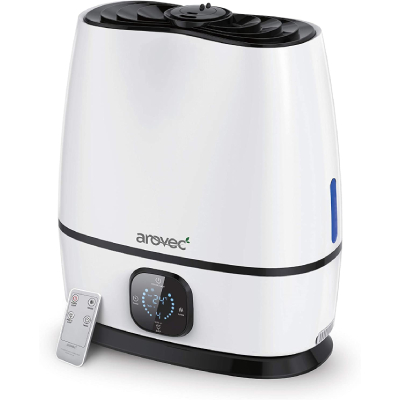 If you have been planning to invest in a large machine, then the Arovec Cool & Warm Mist Ultrasonic 6L Humidifier is an ideal choice. The multi-purpose device can be used as an aroma diffuser, large room air humidifier, and baby humidifier. It has a water filter cartridge which makes the mist free of germs and lasts up to 30 hours in one go. It offers both cool and warm mists and comes with a LED display unit and remote control. It is ideal for bedrooms with its quiet and dark sleep mode and night light functionality. The temperature of the mist can be adjusted according to the weather to enjoy a relaxed ambience that does not cause stuffiness. The auto turn-off technology and the waterless indicator help in saving the device from damage. Other admirable features include a 360-degree rotating nozzle and aromatherapy that requires the addition of essential oils.
What To Consider When Purchasing A Humidifier?
When you plan to purchase a humidifier, you need to have a proper plan in mind about what exactly you want. You can make an informed decision after understanding all the features mentioned below.
Humidification Requirements
The first and foremost question to answer is whether you need to humidify one room or the entire house. It will help you to choose the size and capacity of the device. For the whole property, you can get a central humidifier installed in the HVAC system and connect it to the water line. On the other hand, for a single room, you can opt for the small or medium-sized devices which are called console humidifiers. The small ones are the most commonly bought humidifiers as they can be moved around and placed wherever you want to improve the humidity level in the house. These lightweight devices can be placed on tables and desks. Also, the best humidifiers do not require refilling of the containers for up to 24 hours when they are being used as they come with large tanks.
The device should have speed settings so that you can control the humidity levels in the room. It is also essential to save energy and maintain the level of noise. It should have an automatic turn-off feature so that it shuts down on its own when the water evaporates. Also, it should have indication lights to notify the user about the low level of water or requirement for cleaning. Some of the models come with a UV germicidal light that kills germs present in the water before turning it into a mist. Another similar feature is an air filter which removes pollutants from the air before moistening it and releasing it.
Humidifiers have to be regularly cleaned so that they create a hygienic environment in the house. Thus, you must opt for the ones that can be disinfected and cleaned easily. It is essential to sanitise them to get rid of the germs, minerals present in hard water, spores, and moulds. They should be cleaned once in seven days according to the instructions mentioned on the packaging.
Some of the models make a lot of noise that can interfere with your sleeping time or studying time. If you do not want them to make any sound, then opt for the quietest devices, such as an ultrasonic humidifier. On the other hand, if you do not mind getting disturbed, then choose any of the devices. However, check the noise level specifications before making a pick.
It is the most significant factor to consider when you are buying a humidifier. The price generally ranges between $50 to $300. The features in the device increase as you move up the price bracket. The choice should entirely depend on your personal requirements and budget. Also, you must consider the energy consumption levels of the device. Sometimes, you may purchase a cheap device and end up paying a higher price for the energy bills. Thus, do not ignore this specification.
Since the auto turn-off functionality is a safety feature, it should be checked before making the purchase. It helps in shutting down the machine as soon as the water is used up. It helps in saving on the energy bills and protecting the machine from damage. Digital display with touch panels and remote controls are other technological advancements that make the devices more user-friendly.
Some of the air humidifiers come with filters that kill all the micro-organisms before diffusing the mist in the room. It helps in reducing the number of allergens in the air and creates a hygienic environment for the whole family. It is recommended for those who suffer from respiratory problems or asthma and allergies. Some of the models also have a demineralisation cartridge which is effective in removing the minerals present in hard water. If these are not removed, then the humidifier can release white mineral dust in the air which is unhealthy for the family members. So, either use distilled water or get a device with the cartridge.
Benefits of Using A Humidifier in Your Home?
If you are thinking why you need a humidifier, then you are not alone. Several people do not know about the advantages of this device. Here is what makes it an essential household item.
Maintain Humidity Levels
The mist which is added to the indoor air helps in comfortable breathing and soothes irritated throats, dry coughing, and flaky skin. The moisture created in the environment reduces the problem of chapped lips and a stuffy nose. It is also advantageous in relieving bloody noses. The maintenance of moisture is essential if you are using constant air-conditioning in peak summer months and heating systems during the dry winter months.
Create A Healthy Atmosphere
The dry air in winter season is ideal for airborne viruses which cause common cold and flu. Most children fall sick during this time of the year. The best humidifiers reduce the dominance of such viruses by moisturising the air and making it difficult for the flu germs to thrive. Thus, you can prevent the usual cold and coughs with this device.
Reduce Static Electricity
Static electricity is commonly noticed while brushing frizzy hair or in clinging clothes. However, if the levels of the static charge increase in the atmosphere, it can be damaging for electronics such as computers. The moisture offered by a humidifier saves these devices from harm.
Beneficial for Houseplants
Indoor plants do add to the beauty of the house and purify the air, but they need their share of nourishment. Only watering them and offering indirect sunlight is not enough. They can wilt in the dry indoor atmosphere. An air humidifier offers the much-needed support by creating desired humidity in the air.
Protects Household Items
There are a variety of items in a house that need a balanced environment and are sensitive to excessively dry air. Wooden flooring, furniture, fixtures, books, musical instruments, and papers are susceptible to damage due to dryness. An air humidifier aids in increasing the life of these possessions and even makes the wallpaper and paint last for a long time. It keeps the wooden flooring intact which can otherwise give way to gaps that lead to a build-up of dust and debris and creates a messy look.
Tips to Use Humidifier Effectively
Like every other item in your household, the humidifier also needs to be cleaned regularly. However, its cleanliness is highly vital because it is susceptible to mould and bacterial infestation. If you do not pay attention to sanitation, then these germs can get released into the air of your house and lead to allergies and respiratory problems. So, make sure that you clean it as often as possible. Use water and vinegar solution to clean the device for a mould build-up. You can also use hydrogen peroxide to remove them.
To improve the durability of the product, you must use distilled or demineralised water that does not leave behind mineral deposits in the machine. The deposits created by hard water can build a crust on the inner surface and lead to damage. Use a scrubbing brush to remove scaling and keep the passage clean.
Choose Kid-Friendly Machines
If you have young children and pets at home, then it is not advisable to buy a warm mist humidifier. These come with a burning or scalding warning and can be risky to use in the presence of kids. You can opt for baby humidifiers if you want to place it in your infant's nursery along with the baby monitor to help them sleep through the night.
Some parts of air humidifiers need to be replaced after a few years, such as the filters in certain models. Thus, you must do the needful as per the instructions provided by the manufacturer to maintain the machine.
You should not seal the room from all sides to make it effective as it can lead to excessive humidity. Keep a door or window open to let the fresh air inside the room and reduce the humidity levels. The optimal level is between 30% to 50% and it should not go beyond this. You can use a hygrometer to measure the humidity level.
Keep the Surroundings Dry
Humidifiers create moisture in the air so things which are placed close to them can become damp and lead to the development of mould. So, if you have any carpets, books, and curtains placed next to the humidifier, then keep them dry and move the device away to avoid any infestation due to moisture.
When Is the Right Time To Buy A Humidifier?
The moment winter starts approaching you can buy an air humidifier to reduce the dryness in the air. It is useful for various other problems such as when you have an asthma patient in the house or someone who is vulnerable to allergies. It aids in freshening up spaces that are reeking because of being enclosed. The device is also helpful in decreasing the infestation of pests that thrive in dry air.
It is recommended for relieving problems like dryness of the skin, dry cough, irritated throat, congestion, cracked lips, etc. Although these issues are common in winters, they can occur in summers too due to prolonged use of air-conditioners. So, buy the device whenever you feel is the right time to improve the air quality.
Endnote
Finding the best humidifier can become a cumbersome task if you are not aware of the information mentioned above. So take advantage of this buying guide to make an informed decision and enjoy cool or warm mist in your home.