Whenever we think about pollutants, we often encounter those found outside in the air, on the ground or in waterways. But, most of us overlook the indoor air quality. It is also one of the key aspects that play a vital role in our everyday lives and health.
What is Indoor Air Quality?
Indoor Air Quality or IQA means the air quality within and around structures and buildings like homes and offices. It is directly related to the health and comfort of the people living inside the building.
Breathing quality indoor air is crucial for good health. It is imperative to improve the overall indoor air quality, especially where chemicals, other gages and air pollutants can cause eye irritation, allergies, headaches and other long-term health problems. One of the major concerns related to this is the use of gas heaters and cookers. These are the most common sources that are contributing to a large percentage of the pollutants in domestic dwellings.
In addition to this, the quality of air in homes and offices can also be affected by other pollutants such as microbial contamination, dust mites, fungi and air toxins like formaldehyde. Those who are suffering from asthma or other serious allergies need to take care of indoor air quality. In order to combat indoor air pollutants, people across Australia are heading towards reliable and fully-featured air purifiers.
It is one of those advanced devices that can help you improve the quality of air inside your home in a breeze. The best thing about technology-driven air purifiers is that they have amplified the process of purifying the indoor air quality by removing harmful pollutants and toxic gases. If you are really concerned about the health of your family members, then invest in the best air purifiers depending on your estimated budget and specific requirements.
Air Purifiers – Improving the Indoor Air Quality
With the constant evolution of home improvement technologies, air purifiers has come up as one of those gadgets that traps dust mites, mould spores, chemicals, odours, toxins and pollutants available in the indoor air. It works by purifying the quality of air to give you a healthier and better place to live.
In simple terms, this appliance is designed to cleanse the air in your home by getting rid of smoke, dust, pet dander and other odours. In today's era, it is one of the best gadgets that can enhance the quality of indoor air while minimising the indoor environmental impacts. So, what are you waiting for? Look for the best air purifier in Australia in 2020. But before making the final decision, let's discover more about its procedure, types and key specifications.
How does an air purifier works?
Air purifiers come with a filter or multiple filters, and a fan that fetches in dust mites and pollens and circulates the clean air into the living space. Usually, filters are made up of fibreglass, paper or mesh.
The appliance uses an internal fan system to pull the air in your home via a series of filters that eliminates harmful air contaminants in a matter of a few seconds. The purifier then circulates the clean air back into the room without giving you a hint of stress. The entire procedure repeats itself multiple times an hour, keeping your internal environment clean and healthy.
Types of Air Purifiers
If you want a dust-free living space to live and breathe throughout the spring season, have a look at the different brands and models of air purifiers you will have to pick from. This will help you know which pollens and dust they eliminate from your home or office:
True HEPA Air Purifiers (High Efficiency Particulate Air)
These types of air purifiers utilise replaceable HEPA- filters to get rid of almost 100 % of the dust particles and airborne contaminants prevent in your house. If someone in your family is suffering from a serious allergic problem, then True HEPA can be an ideal appliance for you. It can help you remove pollen, bad odours, smoke, dust mites, lint, pet dander and mould that are the common causes of allergic triggers. The best part about HEPA-air purifiers is that they can keep your living space smelling fresh in a breeze.
True HEPA/UV-C Air Purifiers
These are one of the best air purifiers you can invest in. True HEPA/UV-C air purifiers are comparatively more expensive than others, but they work fantastic when it comes to purifying high-allergen areas.
It usually combines replaceable HEPA air filters with a UV germicidal light to kill almost 100 per cent germs, bacteria, pollens, lint, smoke, mould spores and other airborne contaminants present in your home or office.
Ionizing Purifiers
Corona discharge method is used in these air purifiers to produce charged molecules known as ions. The atoms present in the air have the same amount of negatively-charged electrons. With the help of corona discharge, the appliance will fetch an extra electron or knock it down – producing a positive charge. Dust and other large particles in the air can be easily ionised because they create a huge amount of targets for the electrons when passing via the corona discharge. It is one of the advanced types of air purifiers and is perfect for commercial properties and other spacious buildings.
HEPA-Type Air Purifiers
If you are looking for an affordable air purifier, then this is a perfect option for you. It consists of replaceable filters that have the potential to trap small airborne containments like dust, pet dander and smoke. However, it won't help you remove smaller particles, including dust mites and pollen that may cause allergies.
Carbon Filters
This modern-age air purifier uses small pores to collect pollutants when they go via the filter. The activated carbon filters work wonders in removing smoke, bad odours, pollens and toxic elements present in the indoor air. However, they don't eliminate dust mites and allergies.
If you want to freshen up your indoor air quality, buy the HEPA-type or HEPA filters along with activated carbon. It can help you get rid of pungent smells and also purifies the air.
Note: Always remember that your air quality requirements will help you determine which type of air cleaning system to purchase. If you want to ensure a safe and hygienic environment by removing pollens, dust particles and mould spores, then buy either True HEPA/UV-C or True HEPA air purifier. In case, you want to remove lint, household dust, pet dander and bad odours, then look for more affordable HEPA-type air purifiers.
Benefits of Air Purifiers
From improving air quality to reducing allergy triggers and asthma, the perfect air purifier is a great addition to your home improvement gadgets. They can be beneficial in any residential as well as commercial environments such as schools, offices, commercial buildings, hospitals, etc. The following are some of the key benefits of using an air purifier in a home as well as work environment:
Eliminates Triggers for Asthma Attack
Being a homemaker, it is your responsibility to give your family a clean and hygienic environment inside the home. Of course, outdoor dust and pollens can cause allergy and asthma-like diseases, but you can't overlook the bad quality of air in your home.
Good quality of air purifier can reduce allergic triggers such as dirt, dust, dry skin cells, carbon monoxide, household smoke, bad odours from our homes and office in minutes.
The appliance simply purifies the indoor air and ensures a healthy and hygienic home or office environment.
Your Family Can Breathe Clean Air
According to the recent survey, indoor air is five times dirtier than outdoor air. The presence of dust mites, pollens, smoke, mould spores and other airborne particles can make you feel sick, especially if you are suffering from asthma or allergy.
But when you install a good air purifier, it will keep you healthy and let your entire family breathe clean air. Isn't it amazing?
Removes Bad Odours
Eliminating unpleasant odours is one of the difficult tasks these days. Fortunately, air purifiers available in the market are capable of removing burnt food as well as unpleasant odours from the living space. They clean the indoor air and make your home smell fresh again.
Helps in Eliminating Radon Gas
Believe it or not! Breathing in radon gas can lead to the development of lung cancer. The gas is produced from a natural combination of uranium in rock, soil and water, which can be found in homes, schools and offices. It enters via cracks in the walls and floors, gaps around water pipes or electrical wires.
With the help of HEPA Air Purifiers, you can eliminate both the radon gas as well as the risk of lung cancer from your home as well as office. The filters of your appliance simply fetch the gas from the different corners and cracks of your room and circulate the clean air.
Traps Dust and Pollens
Keeping the home dust and germ-free is not an easy thing, especially when you are a working professional. But with the use of an air purifier, you can remove accumulated dust, dirt, dead skin cells, hair dander and other harmful containments available in the air in a breeze.
Helps in Removing Harmful Insects like Mosquitoes
Air purifiers can help you get rid of hard-to-get and annoying insects and cockroaches, which can spread bacteria as well as harmful diseases. You don't need to use sprays or any disinfectant that may bring toxins into the air.
They are Flexible
The best part about air purifiers is that they come in different sizes and have a variety of advanced features to keep the indoor air healthy. It can fit anywhere in your home or an office and give you quality results within your estimated budget.
Drawbacks of Using an Air Purifier
There is no denying the fact that using air purifiers are beneficial to those who are suffering from asthma, allergy triggers and other respiratory conditions. However, they also come with some drawbacks. Here is the list of some cons of using air purifiers:
Needs Maintenance
Most of the air purifiers available on the market come with replaceable filters. It means you need to spend more than 100 bucks in buying new filters every year. If you don't replace the filters for the recommended time, it won't function effectively.
On the other side, if you have air purifiers with plates and re-usable containers, you will need to clean them on a regular basis- which can be a back-breaking task.
Ozone Air Purifiers Creates Ozone Gas
One of the biggest drawbacks of using an ozone air purifier is that it produces ozone gas. The direct exposure to ozone gas can be harmful to your lungs, and it could cause cough, chest pain and breath shortness. If you are suffering from asthma, then never invest in ozone air purifiers.
Lack of Performance
Most companies in Australia will advertise that their purifiers are 100 perfect effective in removing all types of contaminants. However, there are so many contaminants present in the air that are not omitted by some models.
Most of the devices are capable of eliminating up to three airborne particles, including chemicals, gases and odours. However, they won't be able to remove allergens, pollens and other micro-organisms.
Tip: It is better to look for the key specifications/functions of the appliance before making the final decision.
How to look for the best air purifiers?
There are tons of air purifiers available on the market that can be differentiated on the basis of their models, features and functions. You can buy one depending on your specific needs and budget. To make your search easier, we bring you some of the key attributes that will help you make an informed decision when it comes to buying the best air purifiers:
Features
Features play a vital role while buying a perfect air purifier for your home. Whether you want an air purifier with advanced features or just a basic model, make sure you do your thorough research and buy the one depending on your needs.
If you are looking for an effective, simple and fully-featured air purifier, then look for HEPA purifiers. Make sure it has multiple fan speeds, programmable timer, remote control, handles, digital control and a lot more.
Size
The best thing about air purifiers is that they are available in different sizes. It means buying the right size according to the size of your room is essential when it comes to purifying the indoor air. Take measurements of your room and then search for an air purifier that will give you the best coverage.
Filters
The type and quality of filter determine the effectiveness of air purifiers. Different types of filters remove different contaminant available in the air. The most common type of filter is HEPA (High-Efficiency Particulate Air). It can remove up to 99.7 per cent germs, pollens, allergens and odours from your home or office.
Some renowned brands also offer ultrafine particulate filter with the HEPA filter to kill microorganisms present in the indoor air.
If you want to remove bad odours, you will need to look for an activated carbon filter along with the HEPA filter combination. They work wonders in removing chemical and gaseous odours – making your home smell fresh again.
Performance
Coverage area, Air changes per hour and clean air delivery rate are some of the key factors that determine the performance of an air purifier. Most of the popular brands in Australia strive to keep these performance factors in mind.
So, make sure you choose for the model that claims you offer you the best features and high-performance capacity to you within your estimated budget.
Pricing
The prices for the air purifiers vary from brand to brand. It is important to decide your estimated budget and then look at the best options available on the market. It is not essential that the best air purifiers are always expensive. You can search for the cost-effective yet high-performance appliance to purify the air quality inside your home or office.
Best Air Purifiers in 2020 in Australia
Have a look at some of the best brands and models which will help you find the perfect air purifier at the most reasonable price.
Philips Air Purifier Series 1000 with VitaShield IPS Technology and Night Sensing Mode, AC1215/70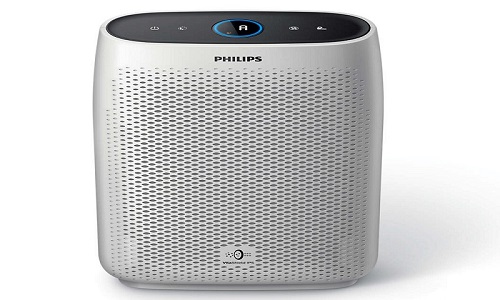 This highly-rated air purifier by Philips has been ranked at the top of the list by most surveys. It comes with a night sensing mode, which is a new technology designed especially for your bedroom. This type of air purifier is perfect for getting rid of airborne pollutants, virus, bacteria, mould, and gaseous chemicals present in the indoor air.
Being one of the renowned companies, Philips has brilliantly incorporated the basic features with advanced technology in this model. The company has included the Vitashield IPS technology with NanoProtect Pro filter to boost clean air delivery rate up to 270m3 per hour. This technology works amazing in removing ultra-fine microorganisms, harmful gases, odours, dust particles, pollens, lint, and other air contaminants.
There is also a healthy air protect alert that allows you to know the right time to replace the filter. The appliance automatically stops functioning if you don't replace the filter on time. Apart from this, you can also detect PM2.5 levels with its advanced smart air sensor function and boost the quality of air accordingly. This is amazing.
GermGuardian AC5000E 3-in-1 Air Purifier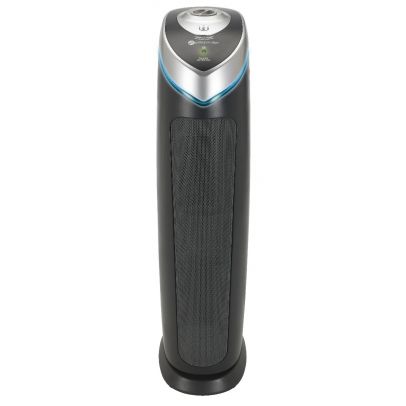 GermGuardian's air cleaning system comes with a true HEPA filter, allergen and odour reduction and UV-C Sanitiser. This type of air purifier is perfect for those who have pets at home. Its true HEPA filter has the potential to trap 99.97 per cent of allergens, dust as well as 0.3 microns such as pet dander, household dust, mould spores and pollens. The device can also remove bad odours from pets, smoke and chemicals- thanks to its charcoal filters.
The best part about this 3-in-1 air purifier is that it features UV-C light technology, which works with Titanium Dioxide to eliminate airborne germs, viruses, mould spores and bacteria from all your rooms.
This lightweight, highly-advanced appliance covers larger spaces- which is perfect for those who have spacious rooms.
AROVEC Air Purifier, White, AV-P152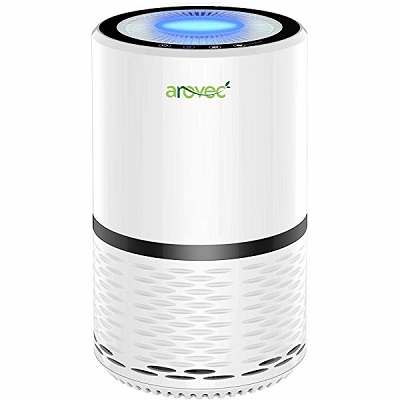 Breathe healthy air inside your home by installing this feature-rich AROVEC True HEPA Air Purifier. It is an ideal appliance for your family, especially those having asthma. It comes with the 3-stage HEPA filter system to kill allergens, ultra-fine particles and 0.3 microns from the air to let you breathe fresh and clean air.
Of course, it is one of the most affordable air cleaning systems in our list, but make sure you change its filters in every 6 to 8 months for effective results. Plus, it improves the quality of air it is 100 % ozone free system. Ozone can make it hard for people to breathe air properly.
Its advanced carbon filter has the potential to eliminate household odours, smoke, the smell of gaseous chemicals, and volatile organic compounds such as paint fumes from the room in a breeze. The device circulates the clean air more than four times per hour.
When it comes to comfort and undisturbed sleep, the device offers 3 fan speed settings that will keep running all night with a soft sound of a gentle breeze. You will get quality air without any disturbance. So, what are you waiting for? Buy this high-performance appliance which comes with 2-year warranty.
Philips Series 6000 Air Purifier, AC6608/70
Philips is best known for providing innovative, high-performance and fully-featured home improvement products in different price ranges. This particular air cleaning system is equipped with TwinForce aerodynamics designs, Vitashield IPS, air sensing technology and sleep mode feature to let your breathe clean air when you are at home.
The NanoProtect HEPA filter can remove almost 100 per cent allergens, ultra-fine airborne particles, 0.3 microns, mould spores, pet dander, plant pollens, dust particles and bad odours from the air. On the other side, the TwinForce technology boosts the Clean Air Delivery Rate (657m3/h) and ensures purified air for a long time.
AeraSense senor incorporated in this series detects and kills smaller particles such as indoor airborne allergens in minutes. In a nutshell, it is one of the advanced and effective air cleaning systems in Australia that has gained a lot of popularity in the last few months. If you want to fight against indoor pollutants, then install this air purifier at your home.
Coway AP-1512HH Air Purifier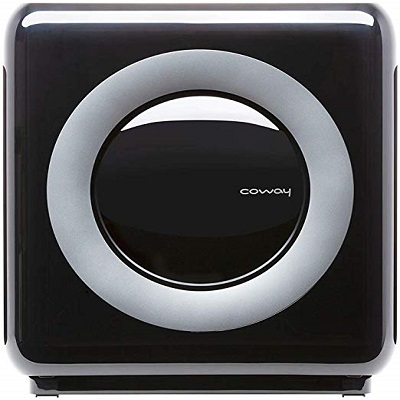 This particular device is designed to accommodate room sizes up to 361 square feet. It comes with 4 stage filtration system, including pre-filter, true HEPA filter, deodorisation filter and vital ion to trap dust mites, pollens and ultra-fine airborne particles including pollutants and allergens. Coway Mighty is also known for reducing volatile organic compounds such as paint fumes, smokes and bad odours.
The in-built pollution sensor communicates indoor air quality in real-time while the bright LED allows you to know how polluted or clean your indoor air is every minute/ per day. Apart from this, it has a timer, auto mode, fan speed settings, and other advanced features to let you circulate quality air inside your living space.
The key feature of this appliance is its Eco Mode. When no dirty air is detected for 30 minutes, the fan will automatically stop and set as an eco mode to minimise the use of energy. On the other hand, filter replacement indicator keeps a constant check on both pre-filter and a HEPA filter to allow users to clean or replace it on time.
If you want a sleek-designed air purifier with True HEPA filter and eco mode feature, then this is an ideal product for you. So, what are you waiting for? Go,
Xiaomi Smart Mi Air Purifier Filter 2S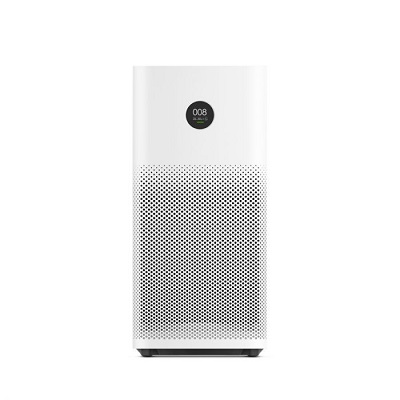 The Smart Air Purifier 2S introduced by Xiaomi comes fully-equipped with a clear OLED screen to let you monitor the air quality in seconds. It helps you track the PM 2.5 index, humidity, and temperature without any stress.
It has 360-degrees barrel filter and three layers of an activated carbon filter to trap 99.99 per cent of ultra-fine particles, dust mites, pollens, smoke and other allergens from the air. You can install it to purify indoor air quality to give your family a healthy environment to live.
The best part about this model is that it enables you to monitor the air quality of your home via your smartphone Mi Home App – which is convenient, user-friendly and of course, practical.
Afloia Air Purifier, Portable, No Ozone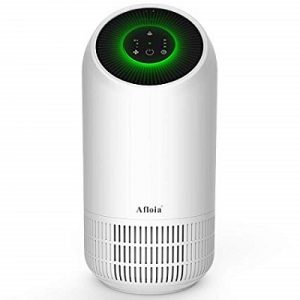 This portable air purifier by Afloia is ideal for small rooms and healthy families. The device has been designed to deliver quality air inside your home by killing germs, pollens, dust mites and other allergens.
The built-in high-quality filter (True HEPA filter) traps allergens, mould spores, germs, pet dander, smoke and odours and make your room smell fresh and clean again. It comes with auto shut-off setting, which automatically shuts off the machine after 2hours/4 hours/8 hours.
There is also adjustable wind speed and light control button to let you adjust the speed of the wind depending on your requirement. In short, it is a very reliable, portable, and amazing product for those who want to improve the indoor air quality.
Winix 5500-2 Air Purifier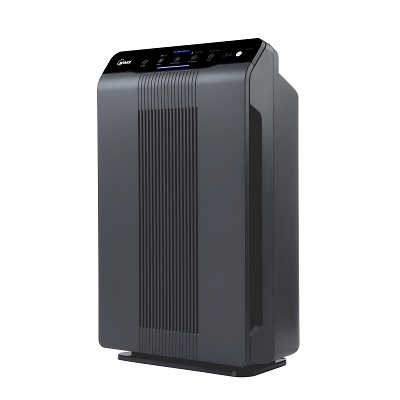 Winix 5500-2 Air Cleaning System comes with True HEPA filter, Odour Reducing, Carbon filter and PlasmaWave to let you breathe fresh air in your living space. The True HEPA filter has the potential to capture almost 100 per cent airborne pollutants, pet dander, dust mites, mould spores, pollens and other allergens from the air. If you are one who is suffering from asthma or other allergic triggers, then this appliance is best for you.
It comes with a washable AOC Carbon Filter to remove household odours, paint fumes and smoke from the rooms. There is also a PlasmaWave that acts as a permanent filter to break down allergens, odours, chemical vapours and other pollutants without producing harmful ozone gas.
Smart Sensor is also available in Winix 5500-2 air purifier along with auto mode and sleep mode to let you sleep silently at night.
Philips Series 5000 2-in-1 Air Purifier, DE5205/70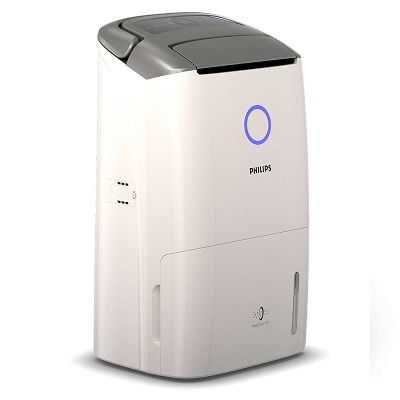 This is an air dehumidifier and air purifier appliance that comes with numerical display and purifier only mode. The digital humidity sensor displays numerical feedback on humidity while its high-quality filters capture dust mites, allergens, pollens, odours and smoke, and circulates clean air. Its VitaShield purifies UFP as small as ultra-fine airborne particles to give you bacteria-free air in your living space.
Apart from this, the device comes with an auto mode, 5 fan speed settings and dry laundry mode to give you seamless experience while breathing fresh and clean air. The 4-step colour ring feedback gives real-time indoor air quality such as Blue represents good air; blue-violet indicates clean air, red-purple displays unhealthy air and red colour indicates filthy air. With the use of purifier only mode, you can protect your family from allergy, odours and pollution all year round, especially during the spring season.
Conclusion
Are you planning to invest your money on this useful appliance to improve the indoor air quality? If yes, then consider the details provided above to find the best air purifiers as per your specific requirements and budget. The market has oodles of brands and models that can help you make the right decision to enhance the quality of air in your living space.