There are hundreds of technological inventions that have revolutionised our day-to-day life. A food processor in your kitchen is one of those electronic gadgets. It plays a vital role in saving our time as well as energy when it comes to chopping, shredding, grinding and slicing vegetables and fruits. This single device has the potential to save you from strenuous tasks. Being a versatile kitchen appliance, some models of it can also help you in preparing vegetable juices, beating cake batter, egg whites, kneading flour dough and even grinding meats in a breeze. Isn't it incredible?
The best part about food processors is that they have upgraded the process of preparing food in home kitchens all around the world. In the past few years, people, both men and women, have adopted this appliance as an essential part of their kitchen. If you are a working woman and want to balance your professional and personal life smartly, then adopt such electronic appliances and give them a special place in your kitchen.
However, when it comes to purchasing the best food processor, most people find it difficult to choose one from a variety of models and brands flooded in the Australian market. To help you in making the right decision, we bring you the ultimate guide to buy the best food processor in 2020.
Food Processors – A Smart Way of Prepping Food!
There is no denying the fact that preparing a meal can be a difficult task, especially when you come home after a long day at the office. But a food processor makes your work easier and minimise the time it takes to prepare meals on the table. This particular kitchen appliance is used to facilitate multiple tasks involved in the preparation of food. From cutting, chopping, shredding and slicing the vegetables to kneading the flour dough and beating the cake, a feature-rich food processor can do anything on your count.
Food processors are similar to blenders in many ways. But it requires little to no water or liquid during the process, unlike a blender, which needs a set amount of liquid to the smooth blending of food content. Blenders are perfect for preparing wet ingredients like smoothies, salad dressings, juices, while food processors for an idea for dry or hard items like vegetables, cheese, protein, meats, etc.
The Key Components of Food Processers
New-age food processors come in three different sizes: full, compact, and mini, but comprises of these key components, including:
A Motor
A Bowl with a lid, and
Feed tube, and other attachments.
The motor is fixed in the base of the machine. It is one of the heaviest parts of the appliance. A full-size food processor usually has a larger and more powerful motor that can weigh over 20 lbs. The weight gives stability to the appliances and makes sure that it doesn't move while the motor is running. Earlier, the bases of food processors were covered in hard plastic, but today they are available in stylish colours and bodies like metals and plastic finishes. This ensures that your appliance will look visually-appealing like your other modern-age kitchen appliances.
On the other hand, the bowl is made of transparent and durable plastic that fits onto the shaft and locks it down. The lid is made of the same material and locks onto the bowl.
The lid comprises a feed tube housed with a plunger. You can add the food content into the device through this feed tube, push it down with the stylish plunger. Some latest models have wider and narrower feed tubs to fill in larger and small food items easily. The size of the bowls varies from the size of an appliance:
In a full-size machine, bowls have a capacity of around 9-12 cups
In compact-size, a bowl can fill up to 7 cups.
Mini-size machines have a bowl that can accommodate 2 to 5 cups.
Some latest models come with different sizes of bowls for efficient use with the common base.
Different Attachments of a Food Processor
Food processors can come with an array of accessories and attachments to make your work easier. But the more you get, the more you will get confused. Instead of buying any local model, it is good to invest in a brand/model that comprises of a lot of attachments. Brands like Philips and Bosch sell a range of food processors with additional numbers of attachments, while other premium brands tend to come with a whole box of a weird yet wonderful set of accessories.
So, here is the list of attachments that you can look for while buying the right model of your food processor:
Shredding and Slicing Blade
In some common models, the attachments placed over the shaft, housed in the bowl. Shredding and slicing blade is one of the standard attachments come in all models. It is an S-Shaped disc, commonly known as a Sabatier blade. They come in different sizes to let you shred and slice the vegetable in a variety of shapes –fine, coarse, medium and thick.
Some modern appliances come with a chopping blade as well to help you make potato chips and French fries at home. These blades can easily be separated from the disc, or you can use one side for shredding and other for slicing.
Knife Blade
This is also a standard attachment come with a basic food processor. It is used for mincing, mixing, pureeing and mashing food items. A knife blade is also known as a multi-purpose blade which can prep your meal in a matter of a few minutes.
Grating Blade
Some models come with a grating blade along with slicing and shredding blades. It is used to grate vegetables and cheese. The grating blade is usually used for grating soft food contents, and the result won't disappoint you.
Dough Blade
Dough hook or blade can be used for kneading bread dough, yeast, flour, etc. Most of the modern food processors come with a dough blade instead of a hook.
Potato Rasp
It is an additional attachment, used for grating potatoes, Parmesan cheese, coconut, net mug and hard vegetables like jackfruit. These are less popular than standard grating, slicing and shredding blades but can be really handy if you would like to grate hard food items in a breeze.
A Whipping Attachment
It is also known as an egg whip attachment which used to beat egg whites and to whip cream and butter. Its whipping function transforms the food item into a fluffy texture.
A Julienne Disc
It is one of the unique attachment/accessory that can be used to cut ingredients into long and thin shapes like matchsticks.
A Juicer Disc
It fits on shaft's top, which is used to prepare juices of citrus fruits like lemons, grapefruits, oranges, limes, etc. This attachment is also known as a citrus juicer.
A Non-Citrus Juicer
It can be used to puree vegetables and fruits. The appliance collects the pulp in the middle of the body and strains the juice into the bowl's bottom.
Tip: Many companies provide with a storage box where you can hold all of the attachments along with extra bowls. It can be convenient for you, especially if you have a modern food processor in your kitchen.
Benefits of Using Food Processor
Now, preparing a meal in the kitchen can be a fun experience if you have the best food processor on your countertop. It can make your cooking super-easy. So, what are you waiting for! Have a look at some of the key benefits of using a food processor:
Accelerate the Process of Prepping a Meal
With the perfect food processor, you will never get late in serving food on the table. Being a versatile kitchen appliance, you can process the food- from chopping, shredding, slicing, dicing, grating, and pureeing in a few minutes. You can prepare juices and sauces at home in a breeze using the right attachment. Just give the command to your food processor, switch on the button and prepare your meals within minutes.
Saves Time
A food processor is a time-saving appliance. Instead of spending hours in cutting, slicing and pureeing food items, you can save time by giving these tasks to this smart machine. The appliance will do the job for you while letting you cook your food in comparatively less time.
Easy to Prepare Meals for Larger People
Cooking meals in a large quantity has become super-easy with a food processor. You don't have to think about chopping, dicing and grinding food items for a large number of people. The appliance works too fast and lets you host a party at home without a hint of stress. Prepare smoothies, juices, soaps, slice salads, and prepare meals in a short time without a hint of stress.
Prepare Healthy Food Items at Home
One of the key benefits of using a food processor is that you can always eat fresh homemade food. You don't need to buy packaged food items or juices, prepare fresh juices and soups at home with this machine. You can make French fries, or you can beat the flour dough, bread dough, whisk egg white and butter to bake a cake at home.
Ideal for Working Women
Working women who don't get enough time to spend quality time with their family due to busy work schedule find it overwhelming to cook and prepare meals in the kitchen. For such ladies, this food processor appliance is ideal. From slicing and chopping vegetables to making the dough, it can do everything in minutes. When you are in a rush, it will make it super easy for you to make breakfast and dinner in a breeze.
Cons. Of Using a Food Processor
There is no doubt that a food processor is a multifunctional, easy-to-use, and time-saving kitchen appliance. But it has some disadvantages that can't be overlooked. Here is the shortlist of the cons of using a food processor:
Hard to Clean
Cleaning the bowl, lid and attachments of a food processor is an annoying task. It really gives pain, especially if you are running out of time. You have to clean it after every use and washing with hands can be daunting.
Tip: Invest in a model that comes with dishwasher-safe accessories.
Over Cut, Slice, Chop and Grate Food Items
Sometimes, a food processor might overcut, slice and chop the vegetables that could annoy you. Instead of buying a local model, look for a premium brand that can save you time and deliver you the best results.
They are Expensive
When it comes to buying a good quality of food processor, you may have to pay a hefty price. Instead of this, people prefer buying a blender, which is comparatively affordable.
Things to Consider While Buying the Best Food Processor
Are you hunting for the best food processor in Australia? A perfect food processor is the one that can simplify your meal prep tasks- from slicing to chopping, mixing to a grating, blending to pureeing. It can be an ideal kitchen appliance if you wisely pick up the one depending on your specific needs and budget. Here is the list of things you should look for while buying a food processor.
Size and Weight
A food processor comes in three different sizes just like the ovens for your kitchen. Make sure you choose the one that can perfectly fit onto your kitchen counter space. Consider the height of your kitchen cabinets above where you will place the appliance so that you can make the right decision and buy a perfect size according to your needs.
You can opt for the full-size appliance if you have more space in your kitchen. If you have a cabinet for it, then check the weight as well. Buy a light-weight machine because you will need to lift it whenever you want to use it.
Accessories
Buy the food processor that comes with the accessories that can help you in performing multiple tasks. It is worth investing in an appliance that has a jug blender attachment to help you squeeze juices and prepare smoothies easily as well as processing food. If you want a food processor that can assist you in your baking tasks, then look for a model that has wire beaters or a dough blade.
Sizes of Bowls
Buying a full-size food processor means getting a large-capacity bowl that can help you prep food in larger quantity. However, some models come equipped with a mini bow. This housed inside the main bowl and comprises of its own blade. It is useful when you want to process a small number of food items such as nuts or herbs.
On the other side, some models have a third midi bowl, so you can choose the best size according to the amount of food you will process in your day-to-day life.
A Feeding Tube
Most food processors come with a lid that has a wider feed tube to let you put a larger amount of food in the machine. You don't need to chop them if you want to process it. Put it in the feed tube and let the machine do the work for you.
A Storage Box/Container
For the sake of your kitchen space, make sure you look for the food processor that comes with a storage box or container. You can put all of the accessories and attachments in one place without any mess.
Dishwasher-safe attachments
Washing attachments of a food processor by hand can be a tough task. If you have a dishwashing machine, you can look for an appliance that has dishwasher-safe accessories. This will make your cleaning process easier. But make sure you check the instructions before putting accessories on a hot wash.
Pricing
The prices for the food processor vary from brand to brand. It is important to decide your estimated budget and then search for the best options available in the same price range. It is not essential that the perfect food processors will come with a high price range. There are plenty of options on the market that are affordable, yet they offer the best features and functions above the expectations.
Warranty
People often overlook the vital details while buying an electrical appliance. But, you can save yourself from paying for the damages latter by reading the warranty of the product you are buying. Most food processors come with a warranty of up to a year, while the premium brands can provide with a warranty of 3 to 4 years – which is ideal for the pricing you are investing.
Ease of Use
Sometimes using the food processor can be a confusing task for people, especially senior citizen. So, make sure the product you are buying offers user-friendly features that can save you from any mishaps during the processing of the food.
Best Food Processors In 2020 IN Australia
We have rounded up the best and futuristic food processors to let you choose your favourite brand or model depending on your specific needs. Check out the comparison among various models and brands of food processors in Australia.
Breville Kitchen Wizz Pro Food Processor, BFP800BAL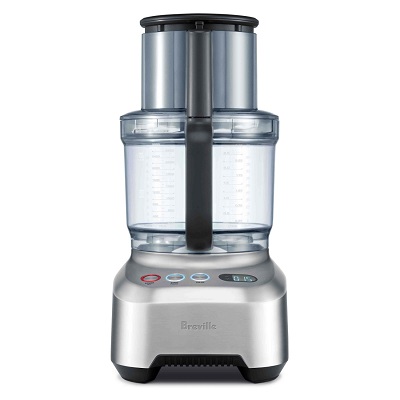 This big mouth food processor ranked at the top of the list by most surveys and is counted as one of the most popular appliance based on its huge capacity, quality and versatility. Breville is one of the trusted brands in the Australian Industry, and they successfully stood with their brand name with the introduction of this product.
This model has extra-wide feed chute that cuts longer slices of food items to make processing easier as well as faster. Now you don't need to cut potatoes to fit into the chute. The wider feed tube allows you to add the entire food item and process it within minutes. This high capacity food processor is a multi-functional device which comes with the variable slicing disc, having 24 settings to let you customise the thickness of your slices. From 0.5mm to a thick 8.0mm, you can slice your food item in any shape.
It has Quad Blade System with 4 blades and extra-large 16 cups (3.6L) bowl that lets you cut on separate planes. The machine chops to the top without pureeing the bottom. The best part about this model is that it comes with a 1L mini bowl as well, which is perfect for chopping smaller quantities of food content. When it comes to its performance and stability, the appliance is backed by a heavy-duty induction motor (2000 Watt) with 25 years of guarantee. This multidirectional timer makes it a true friend of working professionals all across Australia.
Philips Viva Collection Food Processor 2.1L Capacity, HR 7762/90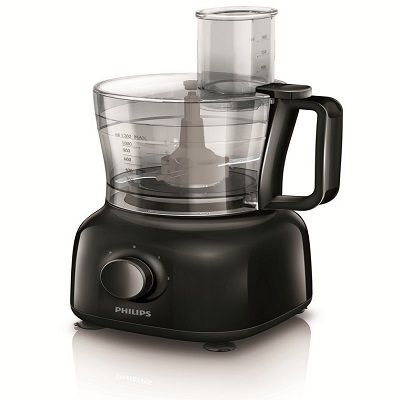 This particular product from Philips is meant for large families as it comes with 2.1L bowl, grinder mill and blender. It boasts of powerChop technology, which is a combination of cutting angle, blade shape and inner bowl to let you cut, slice, shreds and puree food items faster and easier. This 3 in 1 compact set up has 4 stainless steel discs allowing you to prepare a variety of healthy recipes at home. Its dishwasher-safe accessories are capable of providing more than 28 functions. There is a kneading tool to mix and beat dough and batter while a stainless steel chopping knife to chop vegetables and meat in minutes. Variety of other discs is also available in this model used to do shredding and grating tasks.
Philips Viva Collection also comes with a break-resistant 1L blender for crushing, blending and stirring food contents to prepare fresh juices and smoothies. If you are looking for a high capacity food processor with powerChop technology, dishwasher accessories, a large accessory storage box at a reasonable price, then buy this amazing product.
Breville The Kitchen Wizz 8 BFP560SIL
The Kitchen Wizz 8 food processor by Breville is the best bet for those who are looking for a multi-functional yet affordable food preparation appliance. It comes with 8 cup capacity bowl, tow feed chute options (7cm wide and 4 cm for size), 1000 watt motor, stainless steel cutting surfaces, flexible blade system, adjustable slicer and a lot more.
The sliding disc allows you to cut from paper-thin (0.3mm) to thick 8.0mm food items in minutes. There is also a potato peeler which can peels up to 7 potatoes in less than a minute. When it comes to the Quad Blade System, the machine lets you cut, chop, shred, slice, puree food items without a hint of any stress. On the other side, you can mix and knead bread dough to prepare pizza at home using its dough blade. So, what are you waiting for? If you are looking for a versatile food processor with 8 cup capacity bowl, then buy this model today.
Cuisinart FP-8GMA Food Processor
Chop, shred, slice, puree and dice any array of food item with Cuisinart FP-8GMA food processor. It has 8 cup capacity bowl which is designed to perform multiple tasks related to the food preparations. This smart appliance has a powerful motor of 350 watts which boosts its performance. Plus, it has integrated feed tube, easy-to-use rubberized controls and dishwasher-safe accessories to simplify the cleaning process. Its reversible shredding and slicing blades make this food processor one of the best kitchen appliances among Australian women as well as men.
KitchenAid Artisan Exactslice KFP1333 Food Processor
The KitchenAid KFP1333 Food Processor has an in-built ExactSlice system that lets you switch from thin to thick and large to small slicing in a breeze. This affordable and simple appliance is popular among the cooking wizard who loves preparing different varieties of meals- from sauces to soups, cakes to sauteed veggies, etc. It features adjustable slicing control, slip-resistant base Two speeds and ultra-wide 3-in-1 feed tube to add large ingredients easily. Plus, the machine provides multiple options for slicing variations and stainless steel blades for slicing, shredding, chopping, kneading and pureeing almost any food item.
Kenwood Multipro Compact Food Processor, FDM300SS
This stylish, feature-rich food processor by Kenwood comes with a 2.1L capacity bowl, 1.2L blender and various stainless steel attachments to simplify the processing of food. The Multipro Compact allows you to grate, knead, chop, whisk, puree, grind and slice any food item in seconds. Its compact size makes it ideal for those who prepare smaller quantities of the meal. The 800 Watt motor and dishwasher-safe accessories make this appliance one of the hottest products among homemakers, working professionals and busy mums across Australia. If you have little space in your kitchen and want a high-quality yet stylish food processor, then opt for this Kenwood's Multipro Compact model.
Breville BFP820BAL The Kitchen Wizz Peel & Dice Food Processor
This unique model of the food processor by Breville comes with new peeling and dicing discs to let you peel off and cut the food items in different sizes and textures. It features three feed chute size options, all-new dicing kit and a peeling kit that can peel up to 7 potatoes in 15 seconds. The model comes with ultra-durable BPA-free bowl (large capacity), LED display time that counts up and down while processing the food in the machine. You will also get a spacious storage box to keep all attachments and accessories of your appliance handy. However, the model is one of the most expensive ones in the list and may not fall in the reasonable price bracket, but it is highly recommended by customers across Australia. The brushed aluminium body gives it a stylish and a perfect purchase for people looking for a chic food processor with new peeling and dicing discs.
Sunbeam Cafe Series Food Processor
This beautiful, stylish and fully-functional food processor by Sunbeam has the potential to make your food preparation tasks faster and easier. It has a plethora of features, including the ultra-wide chute that reduces the need to cut most food items. There is also a small bowl, which is ideal for processing small quantities of any food. You can chop, slice, dice, puree, knead, whisk and shred the ingredients within minutes with this futuristic food processor. It comprises of Auto Pulse system that automates short bursts of processing and makes your work easier. On the other side, the onboard drawer allows you to store all dishwasher-safe attachments in one place. The only downside is the price which seems too high for this model.
Kenwood Multipro Excel Food Processor, FPM910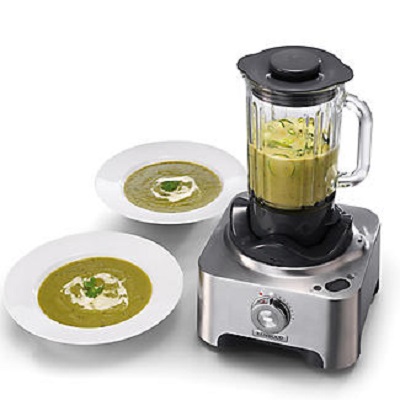 This particular model comes with a 4L capacity bowl and a 935-watt turbocharged motor to give you excellent results. There is a patented tri-drive system, variety of accessories, stainless steel attachments and built-in weighing scales, mini bowl and a Thermo resist blender. The model allows you to slice, shred, dice, mince, puree, knead and whisk any food ingredient in a matter of a few minutes. Its user-friendly function and compact design make it one of the leading food processors in the Australian market.
Cuisinart ECH-4GMA Mini Prep Processor
This mini prep processor is more convenient and affordable than the other models available in the list. It comes with 4-cup capacity of bowl that lets you chop grind and puree food items effortlessly. The smart power blade boasts of auto-reversing facility with a sharp blade for fine chopping, mincing and pureeing of soft ingredients. The model also offers blade lock system, dishwasher-safe accessories and a compact design at the most affordable price.
Conclusion
So, if you are planning to invest in the most efficient, multi-functional and stylish food processor, consider the information provided above in this article. It comprises of the best food processors in 2020 in Australia with different brands and models to let you choose the best as per your specific needs.