Are you looking for a fully-functional oven for your kitchen in 2021? Whether you want to re-furnish your kitchen or replace your old unit, shopping for a new cooking appliance is not an easy task. If you are one of those who love baking cakes, patties, pasta and other drooling dishes, then you need to make the right decision when it comes to buying a new-age oven. The best part is that this kitchen appliance has the ability to do much more than unleashing your baking skills. It has brought revolution in the convection cooking.
Whether its about cooking, roasting or baking, the ovens can do all without giving you much stress. People across Australia are crazy about new-age kitchen appliances, and that's why the companies have been introducing innovative features and functions to ovens, microwaves and air fryers. From baking potatoes to cooking mouth-watering Christmas dishes, you can do everything and impress your family and guests.
Of course, the basic oven settings haven't changed much, but there are some new additions of technological features and functions that can take your convection cooking skills to the next level. That's why it is vital to do thorough research to find the perfect product within the estimated budget. To make things easy for you, we have gathered all the information via this article to help you buy the best oven from the market in 2021 and enjoy delectable dishes and cakes in a fun way.
How Does An Electric Oven Work? And Types of Ovens
Before spending a huge amount of money, it is important for you to know how an oven works and how food is prepared in this appliance. An electric oven utilises a resistor also known as a heating element to produce heat in the oven cavity. In technical terms the heating elements in an oven applies resistance to the flow of electrical current and produces thermal energy.
The heating elements can break down in many ways or just stop heating- which is a major concern. Sometimes, they can cause circuit due to excess heat. That's why it is important to know everything about the functioning of electric ovens. There are four different types of ovens, including conventional, digital electronic with NTC and PCB sensors, fan-assisted, and fan with electric thermostat.
Here is a complete guide that will help you know how different types of ovens work so that you can buy the most suitable one in 2021.
The Conventional Oven
This is one of the most common types of ovens and it comes with a very basic circuitry with a selector switch, a cooling fan, a thermostat and a bake element at the bottom. You can also find a broil element at the top of the appliance's cavity for broiling.
The thermostat warms up the bottom element of an oven with the selector switch set on bake. On the other hand the top element also comes on in conjunction with the bottom element. The main purpose of thermostat is to evenly distribute the heat throughout the cavity.
However, some models only turns on the bottom element when you set a bake selection- it is also controlled with the thermostat. This selection is usually used for specific cooking. The cooling fan on the outside prevents the appliance from getting too hot by blowing the heat out of the oven.
Fan Assisted Oven
A fan-assisted or convection oven has an in-built fan that circulates air around the food. It distributes heat around the food item and cooks it evenly at a lower temperature. This type of oven has the potential to give you optimum results when it comes to baking, roasting and cooking in an electric appliance.
Cooking using convection heat means the oven uses the fan and exhaust system that allows the heating elements to distribute air and cook food properly on time. This means you can minimise the cooking temperature by 25 degrees when compared to conventional ovens.
Fan Assisted Oven with Electronic Thermostat
It is similar to a fan-assisted oven, but it comes without a bottom oven. It has a selector switch along with a built-in thermostat. It works the same as fan-assisted oven except how thermostat on the selector switch bypassed to the separate electronic thermostat. This type of oven has a broil setting that can help you cook and bake food properly.
An Electric Oven With PCB
This type of oven is basically comes with a PC board/timer which controls the fans, heating elements and other vital components based on the signals received from the NCT sensors. The timer circuit decides what is turned on and off when you are cooking or baking something in it. This is also one of the most popular cooking appliances these days because it comes with advanced features and functions to make your work easier.
Things to Look For While Buying an Oven
You can't deny the fact that we all have hesitated to order food from a restaurant in these recent times of the COVID-19 pandemic. This made us all try our skills at cooking, baking and grilling. To treat the taste buds, people tried everything at home- from pizzas to choco lava cake, cookies to apple pie and the list goes on. And during this phase, everyone used their ovens to the fullest. If you are planning to buy a new one this year, then consider these features that you need to look for:
Size/Capacity
An oven is available in a variety of sizes, ranging from 15 litres to 45 litres. It is completely up to you whether you want a small-size of an oven or the one with a huge capacity. If you have a family of 8-10 people and have an ample space in your kitchen, then you can buy a higher capacity model. The larger device is ideal for those who often host parties at their place.
Since, they have categorised into small, medium, and large, you can choose the right size depending on your specific needs and estimated budget. It is good to buy the 15-litre oven if you are single.
Auto Function
In 2021, you will explore an exceptional range of ovens that gives you 10 to 60 auto-cook menus that you can try at home. The conventional ovens have revolutionised their auto function and made it super easy for you to cook, grill and bake variety of dishes. Some ovens come with specific auto-cook function such as diet-friendly oil-free cooking, and much more. In short, your oven is much more than baking cakes and pizzas.
Wattage
The higher wattage means your appliance has the potential to cook food faster. The average wattage of an electric oven is between 800 to 1200 watts. It is good to opt for a lower voltage oven if you are looking it for re-heating your food or cooking for one or two people.
For bigger families, you should buy a higher voltage oven as it can help you cook food quickly. So, do consider this feature while buying an oven for your kitchen.
Combination Cooking
Do not forget to look for this feature as it will help your food to cook faster. You can search for a product that merges two or more functions, such as cooking, grilling, baking and defrosting. It is good to make the most out of your investment and bring the best appliance at your home.
The control panel is one of the important parts as it is a place where you manage the functions of your oven, which includes:
Analog: It comprises of mechanical switches that use knobs. They are less expensive ovens but run longer. They are more accurate as you can set or control everything manually.
Digital: Ovens come with electronically-controlled push buttons are in trend these days. They are more expensive and won't run longer. However, they have more precise settings because you can set it automatically.
Some of the common components of control panels are:
Clock or timer displays – sets the duration for cooking
Temperature settings- lets you set the temperature
Thermostat-maintains a set temperature to stop or continue the flow of heat.
Oven light
Warranty
Usually, ovens come with one- or 2-year warranty on the product. However, an oven is a long-run investment, so buy it from a renowned company. Make sure it comes in handy for maintenance and repair.
List of Best Ovens To Buy in Australia in 2021-01-07
If you have made up your mind about buying an oven for your kitchen, then you should have a look at the following options (different types and brands) available in the market. Here is a complete list of the most selling or best ovens that will take your baking and cooking skills to the next level:
New Family Convection Oven- 45 Litres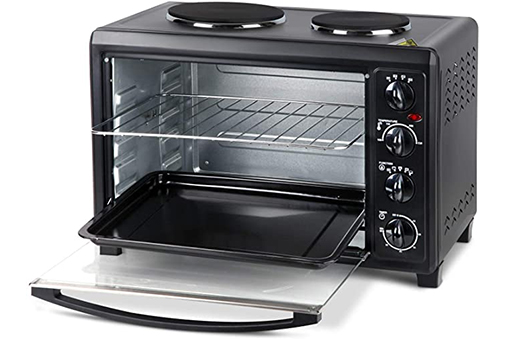 This high-quality cooking appliance comes with a huge cooking space that allows you to roast, bake and grill food for your entire family. It has two in-built hot plates on the top- small plate generates 600W and big one provides 1000W heat. The New Family Convection Oven is ideal for boiling and cooking dishes for big family and guests.
There are four different heating elements and 3D hot wind recycle system that produces heat for quick cooking. The control panels give you the option to select different heating element, ranging from 100°C to 250°C while preparing different food items. The multi-layer design allows you to cook different dishes at the same time.
An oven has the 60-minute timer control so that you can set the appropriate time for different dishes. Plus, the 360° rotating rotisserie fork makes it super easy for the product to distribute the heat evenly using the slow rotation technique.
The best part about this oven is that it is built using stainless steel and has heat-resistant tempered glass door- which makes it durable as well as safe. The product comes with a baking tray, wire rack, rotisserie handle and fork. You can purchase this kitchen appliance without a hint of stress because it comes with a 1-year warranty. If you are interested in buying a convection oven which falls under 11.83 kilograms category for your big family, then this is the best product for you.
DEVANTI Electric Convection Oven -45L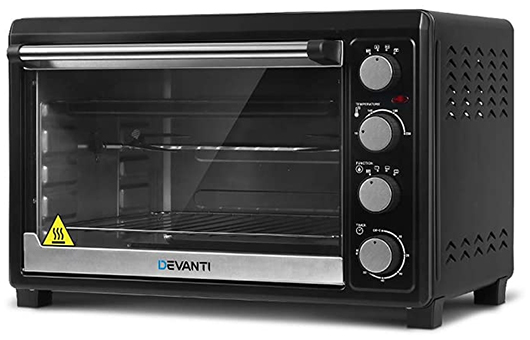 Portable convection ovens are redefining the conventional cooking techniques of people across Australia. The electric oven from DEVANTi is the 45-litre capacity appliance that makes it super easy to cook, bake, grill and roast different recipes without much hassle. This 7-kilograms kitchen appliance has some of the great features, including:
Easy Monitoring: You can check the progress of your food via low-E tempered glass door and indicator lights.
Timer: It comes with a 60-minute timer with alarm that allows you to set the accurate time for perfect cooking and baking.
Easy to Control Temperature: Adjust the top as well as bottom temperatures of your oven separately for better cooking.
Add-on Accessories: The product comes with a baking tray, tray handle, wire rack, rotisserie and rack.
Control Panel: The analog control panel helps you set everything precisely. Plus, this increases the life-span of your oven.
You can buy this compact model of convection oven if you love cooking, baking and grilling different types of recipes at home.
Panasonic NB-H3801KST Benchtop Electric Oven -38L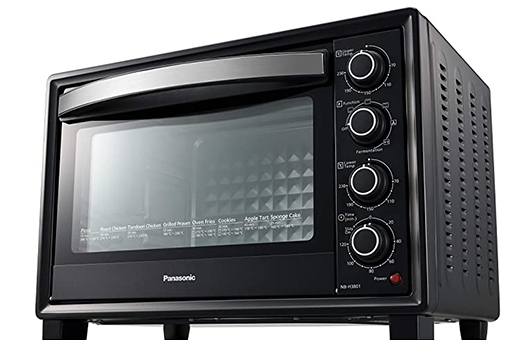 Make cooking and baking an effortless task by bringing this product at your home. This electric oven by Panasonic comes in 38 litre capacity that allows you to cook, grill, roast and bake a variety of dishes easily.
It supports six heating functions, including Convection; upper and lower grill; upper grill and lower grill; rotisserie; Independent Top and Bottom Temperature Control; fermentation; set the upper and lower heaters only for grilling, baking and reheating. The appliance offers broad temperature range as well as Fermentation Function that can be adjusted between 70°C to 230°C and 40 ±10 ºC) for dough and yoghurt proofing.
You can roast your favourite chicken in this oven because it has an in-built rotisserie function that will roast it at 360 degrees automatically. The low rotation speed roast your meat evenly and perfectly while keeping it tender and juicy.
The LED light inside the appliance allows you to check your food being cooked. Plus, it has large and precise analog control panels for quick and easy adjusting.
This product is selling in the market like anything because of its compact design and advanced features. You can cook large dishes without wasting your time. If you want to buy this product online, visit Amazon.
Sunbeam Quick Start Digital Mini Oven – 22L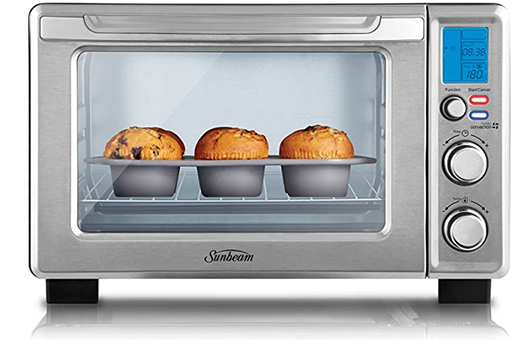 Sunbeam's digital mini oven is ideal for those who don't have much space in their kitchen. It takes less space and saves you a lot of cooking time. The time settings and temperature control functions have been designed to help you cook/bake dishes like cookies, pizza, toast, crumpets and much more with ease.
Apart from its compact design, it also has LCD display and control knobs that allows you to select different functions. The oven has fan that circulates and distributes air evenly and help you cook food faster.
The products comes with some great accessories, including baking pan, aluminium pizza tray which can cook pizzas up to 30 cm, drip tray that promotes healthy cooking and gathers crumbs for easy cleaning.
You can easily wipe the interior walls and ceilings of this mini oven with a damp cloth. So, what are you waiting for!
Sunbeam Convection Compact Oven, COM3500SS – 18 L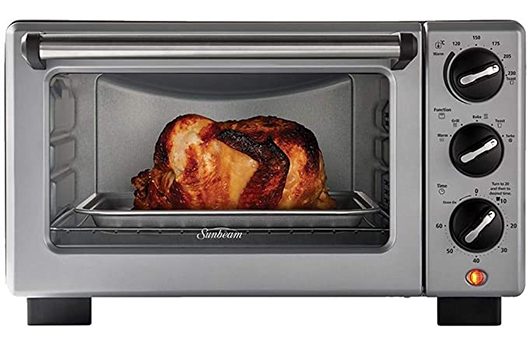 If you are looking for a small-size oven for your kitchen, then you can buy the Sunbeam's 18L Convection Oven. The appliance offers the convenience of a conventional oven in a compact benchtop design. It is ideal for small kitchens or meals for two persons.
It comes with multiple settings, including Turbo Convection Heath Technology, 30-minute timer and 5 oven settings. The product makes it super easy for you to showcase our baking and grilling skills without taking much space in your kitchen.
This compact oven has adjustable temperature control that allows the food to heat upto 230 degrees and can be used to prepare different types of recipes.
De'Longhi EO141150M Livenza Compact Convection Toaster Oven- 14L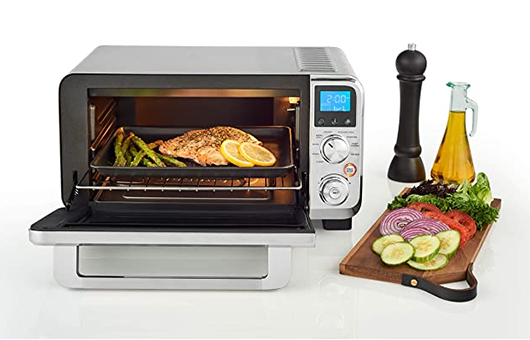 This beautiful convection toaster oven is ideal for baking, roasting and broiling food in a small kitchen. It reduces the requirement for a huge oven because it features everything that can take your convection cooking to the higher level.
It comes with an innovative heating function that maintains and distributes heat to help you cook faster. The temperature control settings and heating system brings precision to cooking, baking and grilling. The interior surface is spacious enough to cook whole chicken and pizza. It comes with 9 pre-set settings:
Bake
Toast
Convection
Grill
Reheat
Keep Warm
Cookies
Pizza, etc
You will get removable crumb tray, pizza pan, bake pan and exclusive recipe app for 1 year along with this appliance.
BOS & SARINO Convection Rotisserie BBQ Oven – 35L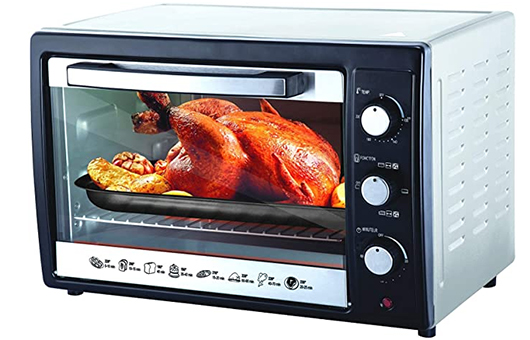 This ultra compact size convection BBQ Oven is perfect for medium size families. The 35L capacity appliance designed in Australia to help you unleash your baking and cooking expertise at home.
It comes with 4 Stage Heating Selector to cook meals perfectly. Apart from this, it has 60 Minute Timer with inner cavity lamp and audible indicator. You will also get accessories, including Chromed Rack, Baking Tray, Rotisserie Skewers and Tray Handle.
Multi-Function Multi-Layer Electric Oven, 30L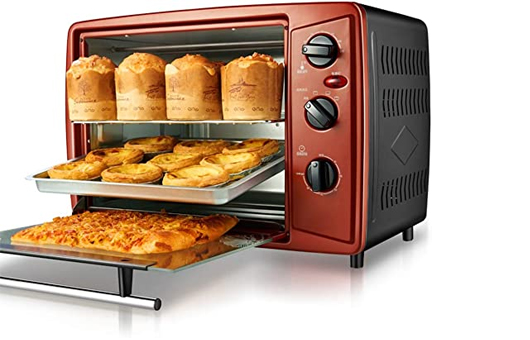 Are you one of those who love baking cakes, cookies and pizzas? If yes, then you should opt for this multi-layer compact oven. You can bake a variety of delectable food items using advanced features and heating functions. Are you one of those who love baking cakes, cookies and pizzas? If yes, then you should opt for this multi-layer compact oven. You can bake a variety of delectable food items using advanced features and heating functions.
The compact design, easy-to-clean, precise timing and beautiful look makes this oven a must-have tool for your kitchen.
Breville Counter Top Smart Oven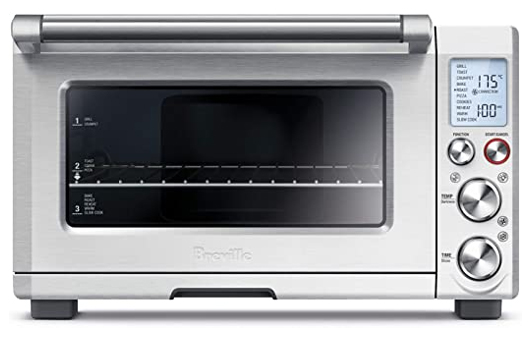 This brushed stainless steel oven supports iQ technology that circulates the power around the oven and delivers accurate cooking temperatures in the right place at the right time for better cooking.
It comes with an in-built fan that distributes the hot air across the oven and speed up the cooking process. The appliance has a non-stick coating that makes it super easy for you to remove burnt food particles, grease, splatters and other stains.
The key highlight of Breville Counter Top Smart Oven is its 10 Pre-set functions, including: Grill, Bake, Toast, Crumpet, Cookies, Pizza, Reheat, Slow Cook and Warm.
This is an ideal kitchen appliance for people who are into regular baking and cooking activities.
Russell Hobs RHTOV25 Air Fry Crisp & Bake Toaster Oven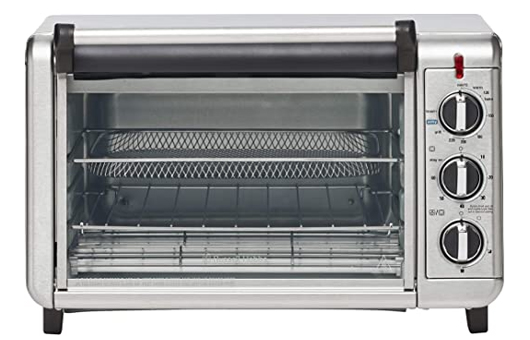 This is one of the best appliances because it supports both baking and air frying functions for better cooking. It gives five super-easy cooking methods while letting you air fry French fires in just 15 minutes.
You can also back 12 inch pizza, cookies and different types of breads as it has in-built heating elements that circulate heat to bake food evenly.
Advantages of Using an Electric Oven
There are plenty of benefits of using an electric or convection oven which make it easy for you to make the right buying decision. Let us assist you understand a few advantages:
If you are a working professional and don't get time for preparing proper meals, then you need an electric oven right away. They are designed to make cooking, baking, grilling and reheating food in less time. It is one of the most convenient kitchen appliances that can help you cook anytime- from roasted chicken to thin-crust pizza, chocolate cookies to cheese pasta without much elbow grease.
All you need to set the time and let the heating elements and other functions cook the food for your family.
An electric oven not only helps you bake or cook a variety of dishes but you can also reheat or warm your food quickly and easily. It comes with a pre-set setting that allows you to re-heat your cooked food without burning.
Promotes Effortless Cooking
With an oven, you don't have to stand in front of your stovetop all the time like the slow cooker which works on its own. All you need to do is to set the timer as per the dish or select the pre-set setting and see your food cooking or baking. The heat will distribute every corner of your oven to cook the food faster.
From cooking to broiling/grilling, baking to roasting, you can do a plenty of things with a convection oven. Make sure you choose a product that supports multi-tasking features so that you can prepare delicious dishes with ease.
Believe it or not! An oven consumes less oil, thus allowing you to cook less-oily food. You can grill or roast chicken and other food items and maintain your weight without making any compromise on your taste buds.
Since the auto turn-off functionality is a safety feature, it should be checked before making the purchase. It helps in shutting down the machine as soon as the water is used up. It helps in saving on the energy bills and protecting the machine from damage. Digital display with touch panels and remote controls are other technological advancements that make the devices more user-friendly.
Cleaning and Maintenance Tips For your Oven
Buying a perfect oven for your kitchen won't be enough if you don't clean it regularly. If you want your convection kitchen appliance to operate for years, then keeping it clean and grime-free should be in your house cleaning checklist. It is good to hire professional oven cleaners in Sydney if you want a thorough service. If you are at the end of your tenancy, consider hiring the best end of lease cleaners in Sydney . They clean everything- all your rooms, kitchen and even oven and microwave to help you get the bond back without any tips. However, it is good to regularly spruce up your oven for effective functioning.
Here are some great tips that will make it super easy for you to remove food crumbs, burnt particles, grease and tough splatters from your much-loved oven:
Remove the Racks
First, remove all your oven racks so that you can pick loose debris and little food bits with ease. You can soak the dirty racks in hot soapy water in bathtub. Leave it for a few minutes or until you clean the entire oven.
Wipe the Interior of Your Oven
Get rid of burnt food particles, dust and debris from your oven using a paper towel or a microfiber cloth.
Apply the Cleaning Solution
To remove tough stains and grease from interior walls and surfaces, mix ½ cup of baking soda with water and apply the paste all over the bottom of your appliance. Do not apply the solution on heating elements. Leave this solution for 15-30 minutes. For better results, let it sit overnight.
Sparkle the Glass door
Use the same solution and apply the paste inside the window of your oven. Let it sit for half an hour before wiping. This will remove tough stains and grime from the glass door of your appliance.
Wipe Off the Baking Soda Paste
In the next morning, wipe away the dried paste of baking soda using a damp cloth. Use a rubber spatula for the stuck paste residue.
The next step is to spraying white vinegar and warm water solution on the surface. Leave it for a few minutes before scrubbing or wiping. This will restore the sparkling and shiny look of your oven without even using harsh chemicals.
Apply the same solution on knobs and glass door and wipe off using a clean cloth.
Wipe down the appliance for the last time to remove stains, bits of stick food and other grime. Use a damp cloth for better results. Do not forget to scrub and rinse the racks before putting them back inside your oven.
Frequently Asked Questions about Ovens
Though convection cooking is not new, some people find it a little confusing due to the multiple features and functions of new-age ovens. We have compiled answers of most common questions about ovens and convection cooking.
Do I Need Special Pans for Cooking?
No you don't need special pans for cooking food in an oven. However, some cookware works better than others. For instance, bright aluminium pans are ideal for convection cooking because anodised finishes on bakeware and it can cause food to get brown too quickly. Do not opt for ceramic dishes if you are something baking in your oven.
Do I Need to Change or Adjust the temperature during Convection Cooking?
Usually, ovens come with pre-set settings to let you cook different types of food in the precise temperature. For some recipes, the temperature can be reduced by 25 degrees. It is because the heat generated inside the oven increases the oven cell and cook food faster. This also means that you can cook foods at same rate even at minimum temperature.
Can convection ovens cook food faster?
Of course, convection ovens can cook food 30 per cent faster than conventional ovens. The in-built fan distributes the heat evenly and helps in cooking the food faster.
Do I need to Preheat the Oven Every time before using?
Yes, you have to preheat the oven before using. However, in some modes, more than one heat element is used during pre-heat which can burn your food. Once the preheat cycle is finished, you can put a pan inside it.
Is a Grimy Oven Dangerous?
It is important to keep both your gas and electric oven clean because the smoke contains harmful gases such as nitrogen oxide, sulphur dioxide and carbon monoxide. This can lead to health hazardous and also contribute to climate change. That's why you should clean it once a week for healthy and hygienic cooking.
Conclusion
Convection cooking has become more prominent with different sizes and types of ovens available in the market. From baking to cooking, broiling to roasting, an oven lets you experiment everything to treat your family and friends. If you are fond of homemade pizzas and cookies, then buy the best oven for your kitchen in 2021 that best fits your specific requirements and budgets without a doubt.