The beginning of 2020 will be remembered as the time when the whole world was engulfed by the lethal wave of the unprecedented COVID-19 pandemic. Panic buying and hoarding of essential items started soaring and before people could understand the magnitude of the health crisis, country-wide lockdowns were announced by governments. The safety guidelines for those who were allowed to move out of their homes included wearing a mask, maintaining social distancing, and sanitising their hands regularly.
Australia managed to curb the rise in the number of positive cases with its strict regulations. However, even after the easing of the restrictions, it was clear that the novel coronavirus was here to stay and was mutating fast. Thus, wearing a mask and following other safety guidelines have now become a part of our regular routine.
The first thing that we pick before venturing out of our homes these days is not the mobile phone, but the face mask. It has become a prerequisite if you are going out and is also the best-selling product for 2020-21. The latest face masks are made with materials that can filter viruses and pollutants. However, you need to be aware of the best face masks in Australia to stay protected from COVID-19. It is becoming challenging to choose the perfect one since the market is flooded with a variety of face coverings.
From fabric masks to medical masks, you can find plenty of options that are available in vibrant colours and designs. Masks have been considered to be effective in restricting transmission of infectious droplets from one person to another when they are in proximity. Thus, if you have been getting confused while searching for the right product that offers maximum protection, look at the list of the best face masks to prevent infection given below. It will help you to find the perfect shield to protect yourself and others around you. However, before you embark on your search to find the right mask, you must have deeper understanding about this protective gear. So here is a complete guide on the best face masks in Australia.
Why Should You Wear Face Masks?
According to World Health Organisation (WHO) and all healthcare institutes and professionals, masks are vital in supressing airborne transmission of the virus and should be a part of COVID-19 appropriate behaviour. Everyone above the age of two years must wear a mask in public places whether they are vaccinated or not. According to the recent data collected after the emergence of the Delta variant, fully vaccinated individuals can also get infected by the virus and pass it on to others. Thus, it is essential to wear a mask in high transmission zones, such as crowded markets, workplaces, public transport, large gatherings, weddings, etc. One should also be aware when moving house with help of the best removalists Adelaide, and follow all safety norms to avoid transmission of virus and germs.
What Type of Face Masks Prevent Infection?
While looking for a face mask, you should be aware of the following features that prevent infection.
The first and foremost feature of a face mask is that it must cover both the nose and the mouth completely.
It should have three layers of breathable fabric and should be washable so that you can reuse them whenever needed. Do not buy masks that make breathing difficult or are made of vinyl or similar material.
It must fit on your face perfectly without any gaps on the sides that can allow the virus to escape or enter your mouth.
The mask meant for COVID-19 prevention should not have any exhalation valves as the virus can pass through them.
It should have a wire on the area that covers the top of the nose to avoid any open spaces.
Children below two are not advised to wear masks as their airways are smaller and they may not be able to breathe properly through a mask. Also, they may not be able to remove it when they feel suffocated. In other cases, they may want to remove it, which can make them touch their face again and again and it can increase the risk of infection.
Children above two should wear masks that are made from breathable material and fit snugly over the nose and mouth.
How Can a Mask Ensure Safety From COVID-19?
Face masks when used along with other preventive measures can help in controlling COVID-19 coronavirus (SARS-CoV-2), which infects the nose, throat, lungs, and the windpipe. It can spread through large respiratory droplets while sneezing or coughing, sharing saliva (if you use the same glass with an infected person), and through airborne aerosols that spread in the air while talking and breathing.
Face masks allow a healthy person to prevent the virus from entering the mouth or nose. It also aids in keeping the hands and fingers away from these areas since they are covered. Thus, even if you touch any infected surface, the virus may not be able to reach the air passage as they are covered. Therefore, people who are infected must wear it to avoid spreading the virus and those who are not infected must use it keep themselves safe. When a large population wears masks, the probability of contracting the diseases reduces considerably. They should be worn by healthcare professionals as well as common public to keep the contagion in check.
While the medical practitioners wear the most advanced masks that fall under the personal protective equipment (PPE), others are recommended to use other masks available in the market. People who are above 65 years or are suffering from diseases like diabetes, cancer, high blood pressure, heart ailments, low immunity and lung disease must wear a mask while going out of their homes. They are highly vulnerable and getting infected can lead to hospitalisation. As the adage goes, prevention is better than cure. Thus, wearing a mask along with social distancing, vaccination and regular hand washing can help in keeping the virus at bay. There are a range of masks available these days and they primarily include fabric masks, surgical masks, and N95 respirators. Let us understand these in detail.
Fabric Masks
A fabric mask or a cloth mask is usually made from multiple layers of cotton or denim cloth and can be washed for reuse. These are non-medical face masks, and their efficacy is not as high as other masks in preventing infection. Many people sew them at home, but they are not regulated by TGA. They can be used in public spaces with large crowds to reduce transmission. Cleaning of these masks is of utmost importance. The cloth masks can be hand-washed or can be laundered along with other dirty clothes in the washing machine. Make sure that you use soap and warm water to clean the mask thoroughly and dry it in sunlight before using it again.
Surgical Masks
These are medical-grade masks that are effective in preventing droplet infection. The surgical masks are usually worn by healthcare workers in a hospital or medical centre where they are not involved with aerosol generating procedures. These are disposable masks and should not be reused. They must be discarded according to the guidelines of the government and should not be shared with others. Surgical masks aid in blocking large droplets and particles from entering the mouth or the nose. Thus, they are capable of filtering splashes, splatters and large particles and stop personal respiratory secretions from entering the air. However, they are not useful when it comes to very small particles, and thus, are not considered 100% effective in preventing infection. Also, they do not fit completely over the nose and the cheeks and leave gaps that can lead to transmission of germs and viruses.
N95/KN95/FFP2 Respirators
The N95/KN95/FFP2 respirator masks can filter microscopic particles and prevent airborne transmission. They provide a snug fit around the nose and the mouth and are often used in industrial and healthcare settings as the workforce in these workplaces is exposed to very fine particles that can affect the respiratory system or cause infections. The N95 masks are used by healthcare professionals to avoid the transmission of microscopic organisms, particles, and body fluids.
They are capable of blocking bacteria, viruses, pollutants, and other allergens. Since the COVID-19 pandemic struck, the availability of the respirators has come down as they are in high demand in the medical fraternity. Thus, these masks should be used in healthcare settings as there is a shortage of the respirators. Also, when you are buying these masks, make sure that they meet the Australian Standard or their international equivalent. The compliant N95/KN95/FFP2 respirator masks should have the name of the manufacturer and filter classification (P1/P2) mentioned on it. The buyer should also ask for certificate from the manufacturer that confirms that the mask complies with AS/NZS 1716: 2012 or a comparable international standard.
Best Face Mask to Prevent Infection
Face masks have become omnipresent and a necessity in the current scenario. It is essential to find a mask that provides optimum protection and can be reused after washing. Thus, you must purchase high-quality face masks to prevent infection. Here is a list of the best face masks in Australia.
Under Armour Adult Sports Mask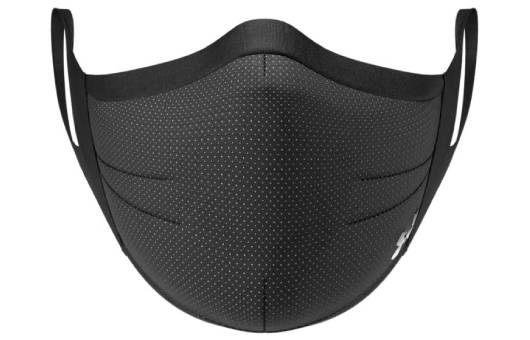 According to recent research, it is safe to wear a mask while exercising or playing a sport. However, the N95 respirator can affect breath resistance and body temperature. Thus, you must prefer cloth masks that do not affect respiration, blood pressure, oxygen levels and heart rate. The Under Armour Adults Sports Mask is a top-rated and best-selling mask in this category. Priced between $41 and $58, it is made from nylon and polyurethane. The high-performance UA material is comfortable for wearing all day and while playing a sport. The quality product fits snugly over the nose and mouth and offers breathability without any disruption. The three-layer mask comes with spacer fabric in the first layer that allows better airflow. The second open-cell foam layer allows the air to pass but restricts sweat and moisture. The third UA Iso-Chill layer makes sure that the fabric stays cool to touch while offering an ant-microbial treatment. The product is perfect for fitness enthusiasts who want to work out in gyms while wearing wireless earbuds or are playing a sport with players.
Kenneth Cole Face Mask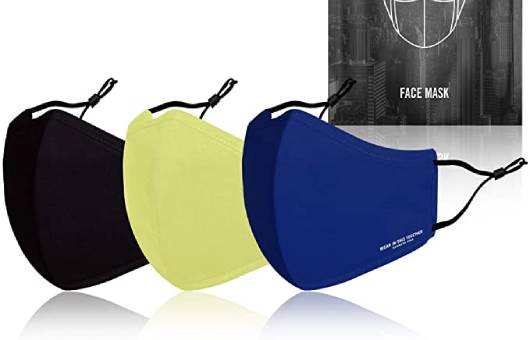 If you are looking for comfort and premium quality, the Kenneth Cole Face Mask is the best fit for an active lifestyle. Made from 100% ultra-light weight and soft cotton linen, the breathable fabric allows you to stay cool during summers. The washable mask is highly durable and can be worn throughout the day without any discomfort. The protective gear comes with six-layer triple particle filtration system. The outer layer helps in blocking coarse particles, while the middle layer protects from body fluids and filters the small particles. The innermost layer aids in moisture control, and the mask is equipped to filter dust, pollen, and odour. The comfortable to wear and use face covering comes with adjustable ear loops and nose clip so that fits in the best manner without any gaps. The perfect fit of the mask makes sure that your glasses do not get fogged and allows comfort all day long. They can be worn for outdoor walks, travels, shopping, work, etc. It has been designed to block impurities and provide a cool feeling with its Smart Temp feature.
Lee Cooper Cotton Face Masks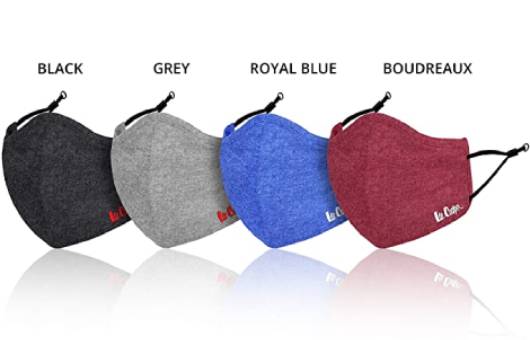 Looking for a good protective mask while going out? You can rely on the Lee Cooper Cotton Face Masks that come with HeiQ V-block filter. The Swiss technology shields the wearer from pollution, nano particles, smog, industrial smoke, and droplet transmission. The smart temp fabric ensures that the person wearing the mask does not feel warm even when using it for long hours. The highly breathable material does not affect respiration and the stretchable cloth covers the entire mouth and nose area with perfection. The ear loops can be adjusted to fit both teenagers and adults. The comfy style and design of the face covering does not interfere with the protection of those who have a beard. The soft fabric does not cause irritation and the adjustment loops do not pull down the ears. The durable fabric can be washed up to 30 times and the innermost sweat repellent layer does not allow moisture to build up inside the mask. It is ideal for cycling, hiking, grocery shopping, office, or exercising.
Swiss Eagle Cotton Respirator Face Mask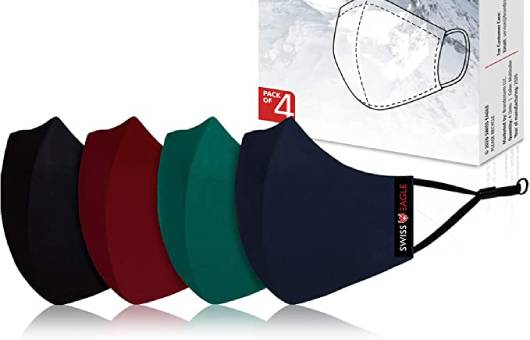 The Swiss Eagle Cotton Respirator Face Mask offers multi-layer protection from dust, allergens, particles, etc. The masks are made from superior quality Swiss cotton from the inside so that the wearer does not sweat under the mask. The adjustable mask offers a secure fit and does not cause tension around the ears. They are unisex and are available in several colours which make them stylish and trendy. They can be used when camping, shopping, travelling or in office. The high-quality masks safeguard the wearer from dust, haze, fog, and passive smoking. The super breathable material of the mask is also splash and fluid resistant and can be washed easily.
Indotribe 3D Design Adjustable Cloth Face Mask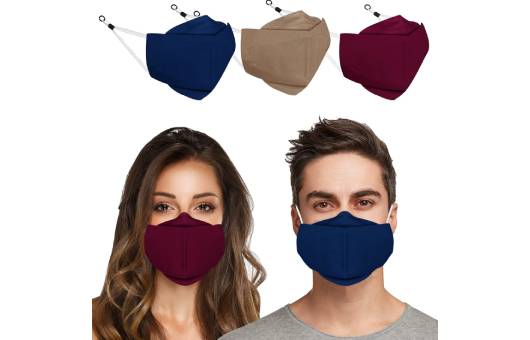 Many cloth masks come with a better fit as they include a nose wire. If you are looking for something similar, you can opt for Indotribe 3D Design Adjustable Cloth Face Mask. The washable mask comes with adjustable earloops for maximum comfort and a snug fit. The elastic loops are stretchable and sturdy and have a sliding cylinder for adjusting the size. The reusable mask has three protective layers and is soft and breathable as it is made from 100% cotton. It can be used in all weathers and does not cause irritation or allergies. The nose bridge keeps in in place and offers better protection along with anti-fogging. It can be used while you are running, cycling, or indulging in outdoor activities to stay protected from dust.
Case-Mate Cloth Face Mask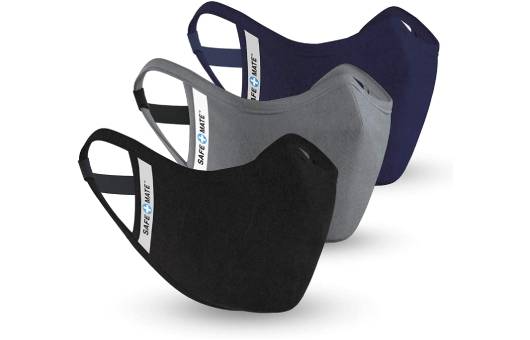 One of the best-selling masks online, Case-Mate Cloth Face Mask has received a high rating from customers. The washable and reusable mask is made up from 60% cotton and 40% polyester. It includes optional replaceable filter insert into an integrated pocket and the additional filters are sold separately for the convenience of the customers. The mask has a back elastic strap that does not pull down the ears and cause pain after long use. It has space to fit under the chin to avoid any gaps and provide a perfect fit. It has a contoured fabric panel that gets placed snugly over the bridge of the nose.
MediSafe PPE Level 3 Surgical Masks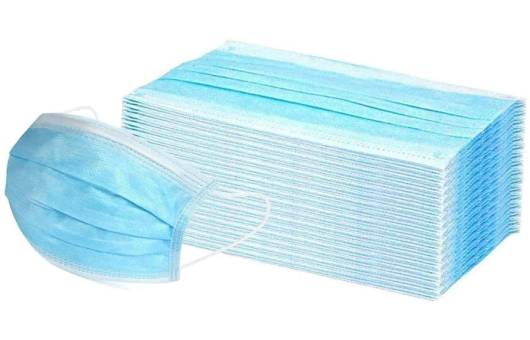 When looking for surgical masks that are appropriate for healthcare settings, you can pick the MediSafe PPE Level 3 Surgical Masks. The superior quality masks are TGA registered and meet Australian standards and ASTM standards (USA). The bacterial filtration efficiency of the mask is more than 98% and it offers complete comfort and higher safety. The Australia made medical-grade product offers 99% particle filtration efficiency for particles bigger than 0.1 microns. Providing optimum breathability, the product offers maximum protection from aerosols, sprays, and fluids. These masks are helpful in preventing the risk of infection and reducing the risk of fluid contact as it has a fluid resistance of 160mmHG. The material of the surgical mask is hypoallergenic, so it does not cause any harm to people with sensitive skin or allergies. Its low delta P level ensures that the wearer can breathe comfortably just like it feels when you use a humidifier for fresh air in your home.
Reynard Medical 3-Ply Surgical Face Masks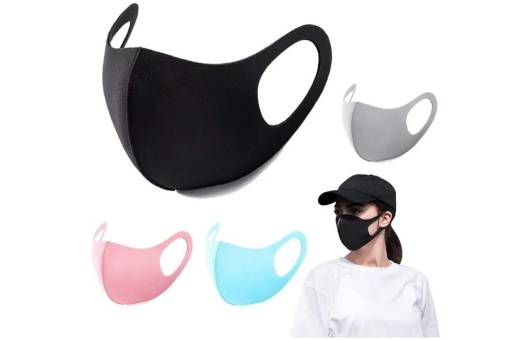 Medical-grade masks have the same features, but you have to check its compliance with Australian or international standards. Reynard Medical 3-Ply Surgical Face Mask that are ASTM level 2 and TGA registered. The masks provide Bacteria filtration efficiency of more than 90% and prevent infection caused by bacteria, viruses, and micro-dust. The outer layer is non-woven and water repellent, which refrains body fluids from entering the mouth and the nose. The middle layer has a high-level static meltblown that blocks all microorganisms, and the inner layer is micro-fibred and ultra-fine, which makes it soft and comfortable. It is available in white, green, and blue colour and is a disposable mask that should not be reused as washing can damage its fibres.
CO&BO Well-Being Hygiene KF94 Face Masks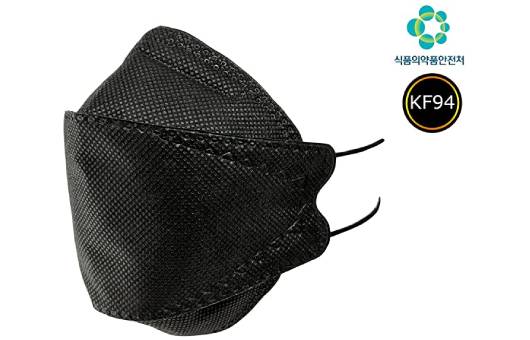 The scarcity of the N95 masks has increased the sale of KF94 masks that are the South Korean equivalent of the N95 masks. It is 94% effective in filtering airborne particles while the N95 is 95% effective. Thus, if you are looking for better protection than a cloth or surgical mask, you can use the CO&BO Well-Being Hygiene KF94 Face Masks. The three-layer mask includes a special electrostatic filter that protects the respiratory system in office, stores, factories, schools or during outdoor activities. It is made with an ergonomic 3D design that lends superior comfort to the wearer even when used for long hours. The disposable mask is breathable and fits well over the mouth and nose.
Maskpro KF94 Face Mask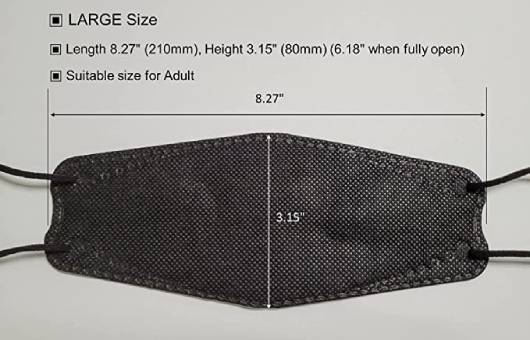 A comfortable and high quality option among the KF94 masks is the Maskpro Premium 4Layer Filters Safety Mask that allows easy breathing. Shaped like a dome, the mask has curves and a hard shell in the middle layer that keeps it in position while speaking. The stretchable ear loops are made from nylon and polyurethane that do not pull the ears the down or cause skin trouble. The soft material does not give off lint and is smooth to wear and touch. It utilises the 4-layer KF94 air filter technology to restricts fine dust particles up to the average size of 0.4㎛. Its particle filtration efficiency (PFE) is 99.25% and it is KFDA approved, and FDA registered. It stays securely at its place because of its design and offers superior protection as compared to a cloth mask.
HANMAUM 3D Face Safety Mask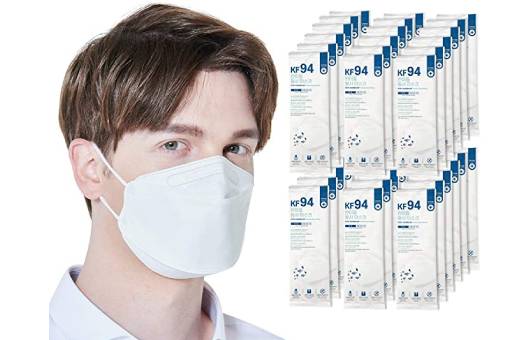 The 3D design of the Hanmaum safety masks it comfortable to breathe and provide high protection. With 94% filtration efficiency, the mask is officially registered in the US and is suitable for US quality standards. Made up of three lightweight layers, it can be worn for a long time without affecting the skin. It does not affect respiration and has an elastic ear band that provides a good fit. The nose clip on the top ensures that your glasses do not get fogged while you are wearing the mask and there is no gap that can lead to transmission. The design ensures that the mask does not touch the lips and offers comfort while speaking. It is highly useful in workplaces if you have to conduct face-to-face meetings and need better protection.
NYBEE KF94 Face Mask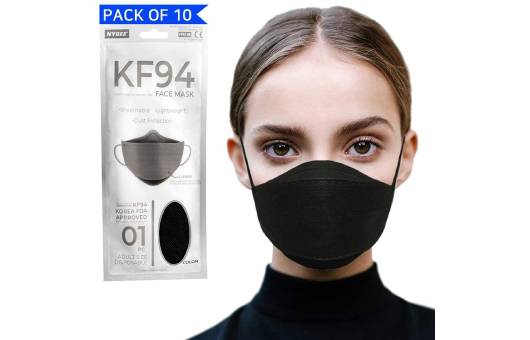 People who need better protection from dust, pollution and infections can use the NYBEE KF94 face mask. The 4-layer protective gear is lightweight and has comfortable ear loops for a perfect fit. The high-quality mask is made from advanced thread for effortless breathing and better protection. Its 3D tri-folding stereoscopic design and the chin maintain cleanliness as the wearer's makeup does not come in contact with the mask. The adjustable nose wire makes sure that you do not have to suffer from fogging while talking driving. The adult size disposable mask is approved by Korea FDA and has high moisture locking system that does not allow sweating when worn for a long time.
Frequently Asked Questions about Face Masks
While masks are becoming common, there are many misconceptions and lack of knowledge about them. Here are the answers to the most common questions about these face coverings that will resolve all your confusions.
How to Use A Face Mask?
Many people think that wearing a mask is easy and does not need to be learnt. However, there is a set of guidelines that need to be followed to prevent infection.
First, wash your hands for 20 seconds with soap and water. If you do not have access to these, you can rely on an alcohol-based hand sanitiser. Dry your hands and avoid touching any surface.
Open the packaging and make sure that the packet was appropriately sealed before using it. Also, check the mask for tears or holes. Do not touch the front part of the mask.
Hold the mask from the ear loops and place them around your ears. If the mask has adjustment cylinders, use them to make it fit perfectly over the mouth. Do not make it too tight as it will hurt your ears.
If the mask has a nose wire, use it to bend it over the nose bridge and cover all the gaps carefully so that no leakage is possible.
If the mask has an elastic back, pull it over your head to adjust it in the right place. On the other hand, it needs to be tied at the back of the head, make sure that you do not leave it lose and increase the risk of infection.
While removing the mask, make sure that you do not touch the mask until you have washed your hands with soap and water for 20 seconds.
Dry your hands and touch only the ear loops or the band to remove the mask. Do not touch the front part of the mask and move it away from your face immediately.
Dispose of the mask and once again follow the hand wash routine of 20 seconds to keep infection at bay.
How to Dispose of Face Masks?
With regular use of face masks, their disposal has become a matter of concern. If you are not infected and have not come in touch with an infected person, you can dispose of the mask along with other waste of the house in a closed bin. If you are disposing of a contaminated mask, make sure that you put in a closed bind with two bin liners without touching it. The bin should have a foot pedal to avoid any contact and reduce the risk of transmission. The double bags will make sure that the contaminated mask does not infect other people. If you are unable to find a double bin liner, you must first insert the mask in a sealed bag and then place it in the closed bin with a single bin liner.
Can Bandanas and Scarves Be Used as Face Masks?
They may cover the face but do not provide protection from infection. The mask should be at least double layered and breathable so that infection cannot spread. A bandana or a scarf does not cover all the gaps and has open areas that can lead to leakage of droplets or give them entry into the mouth or nose. Similarly, face shields do not provide any protection from droplet infection as they are open from the bottom.
How to Ensure Maximum Protection?
The most significant aspect of wearing a face mask is protection from infection. However, if you keep removing it to talk or eat or pull it down every now and then, it will not prove to be effective. Thus, it is vital to keep wearing it without fail when you are outside. Whether you are talking or not, do not take it off. In addition, you need to make sure that the mask fits perfectly around the mouth and nose and does not leave any gaps on the sides, bottom and top. It should be breathable which means that air should flow in and out through the material of the mask without any disruption.
Do People with Beard Need Extra Layers?
People with beards can find it challenging to make the mask fit perfectly on their face because of the thick hair. Thus, they can either shave it off or trim it to allow the mask to do its job. However, if they want to keep the beard, they can use a mask fitter or use double masking, which involves wearing a disposable mask under a multi-layer cloth mask.
Does Wearing a Mask Increase CO2 Levels While Breathing?
No, the CO2 levels do not rise in the air that we breathe while wearing a mask as the molecules of CO2 are extremely small and can easily pass through the mask. However, the respiratory droplets are bigger in size and cannot pass through the multi-layer masks.
How to Store A Mask?
If the mask is soiled after use, place it a plastic bag until you find the time to wash it. After it has been cleaned, you can place it in a separate place where it does not get dirty. If you are taking off your mask to eat, you can place it in a paper or fabric bag to keep it clean before reuse.
Conclusion
With the COVID-19 pandemic becoming a part of our daily lives, it has become imperative to stay armed with all the protective gear and preventive measures. Thus, make sure that you buy the best face masks to prevent infection and stay protected at all times.