Whether you wish to fight with beasts on snow-clad mountains or spar with muscular giants in a ring, gaming makes it possible to live the adventures of your dreams. It is no more restricted to just the kids in the house, even the adults are enthused about video games that offer an immersive experience. Gaming has gone through a paradigm shift in the last decade with the advent of gaming consoles and technology upgrades. Today, you can enjoy high-quality graphics in lifelike animated settings that set your heart pumping and pulse racing.
The adrenaline rush offered by games like Lego Star Wars, Galactic Civilisations, Lost Ark, Minecraft, God of War, Grand Theft Auto, Hades, etc., is unbelievable. While the modern gaming consoles have taken the concept to a whole new level with sensor motion controllers, PC gaming has carved a niche that is going strong. Most professional gamers prefer PCs because it offers exceptional gameplay quality and the ability to choose from a large game library. Gaming PCs have become supremely popular because they can be upgraded and do not become obsolete like consoles when the new version is launched. Also, their better performance and visuals score over consoles in a big way.
Most gaming fanatics use PCs for an ultimate gaming experience because desktops are adaptable and flexible. They allow the use of software and customised hardware which is not possible on consoles. Thus, if you are looking for the best gaming PC to buy in 2022, you need to make sure that you check the specifications carefully to enjoy faster frame rate and exceptional visual quality. Let us help you with a comprehensive guide to make an informed choice and grab a PC that offers the best value for money.
What Is A Gaming PC?
A Windows desktop that can be used perfectly for gaming purposes is called a gaming PC. Some gamers prefer to get the machine customised so that it fits their gaming requirements. However, you can do away with the effort of getting the device assembled by purchasing a desktop that is built for gaming. These come with an increased level of performance to deliver the high-resolution graphic output needed for playing video games.
Thus, they have video cards with RAM, GPU and a cooling system. With companies like Lenovo and HP offering prebuilt Gaming PCs, it has become easier than ever to find the best device in the market. Also, they come with warranties which allow you to save money when there is a snag in the system.
The most top-level players rely on a desktop to compete with other gamers or hone their skills by breaking records. The reason behind this is that PCs offer more upbeat, enveloping, and riveting experience with higher efficiency and less lag. Also, they are multipurpose devices that can be used for watching Netflix, filling spreadsheets, remote working, listening to music, browsing Facebook feed, surfing the internet and video calling.
Factors To Consider When Buying A Gaming PC?
Buying a preassembled gaming PC involves considering the level of gaming that will be performed on the device and the needs of the gamers. Here are the specifications that must be examined.
Price
The marketplace is filled with options that can go up to $10,000. However, you need to identify your budget and the best available features in the price range to purchase a product that will satisfy your gaming needs. Thus, deciding your budget is the first step to finding a gaming PC.
The price varies according to the features so you may have to choose a device that offers less storage but better graphics card. Therefore, you must compare the features to make the choice. Also, you can upgrade a PC anytime so stick to your budget and don't go overboard.
RAM
Random Access Memory (RAM) is vital for ensuring least lag while playing games. It aids in offering fast storage of data that needs to be accessed from the system memory quickly. An 8GB RAM is suitable for playing basic games with lower settings. On the other hand, a 16GB RAM is preferable because it allows you to run other applications without slowing down the system.
However, this does not mean that you should opt for 32GB or 64GB unless you need to store huge data sets or play very large video files. If you go for higher RAM without any use of it, you will be wasting your money. It can be utilised to get peripherals for the desktop. Most popular games like PUBG and Doom Eternal can be played with 8GB but 16GB RAM offers better speed when the anti-virus and other applications will be running in the background.
Storage Drive
Storage drive must be picked up with care because they help in faster loading time. The commonly used drives include Hard Disk Drive (HDD) and Solid-State Drive (SSD). It is better to stick to SSD because HDD are not suitable for the modern gaming PCs. SDD is much faster and is affordable so you can access data quickly. You can also choose M.2 SATA and M.2 NVMe drives for faster load time but you will have to shell out a few more dollars for them.
CPU
While assessing the Central Processing Unit (CPU) for the gaming PC, you must look for the one with fastest chip. You can opt for AMD's Ryzen 5 3600 or Intel Core i5 for basic level gaming. If you wish to go professional, then Intel Core i9 12900K and AMD Ryzen 9 5900X are the best available options. Some people prefer Intel because of its quality single core performance that offers a tad better gaming experience over the AMD processor.
Anyway, you don't need to have too many cores for gaming and even Intel Core i5 can offer a great experience. The choice depends on your budget. Also, make sure you go for new generation processors since they are better than the previous ones. AMD is also preferred by gamers because it is more affordable and has more features at a lower price point. If you save money on the CPU, you can use it for other gaming items.
Graphics Card/GPU
The Graphics Processing Unit (GPU) is most significant feature of a gaming PC because all 3D games need the graphics card to play. The best graphic cards are responsible for offering high frame rate at 4K quality. The most sought-after brands in the marketplace include Nvidia and AMD. The costliest ones are the most powerful ones and have better graphics memory.
If you choose a Nvidia GPU, you can opt for GTX 1030, 1050 and 1660 for basic gaming needs. However, if you wish to go a level up and buy a high-end GPU, opt for RTX 2060, 2070 and 2080. Similarly, AMD has its Radeon series which includes RX 550, 570, 580 and 5600XT for basic gaming and RTX 2060 and 2070 for high level gaming. So, keep your needs in mind while choosing this feature.
Monitor Display Panel
It is a known fact that high quality monitor display is imperative for a vivid and rich viewing experience. The three main types of monitor display panels are TN, IPS and VA. The Twisted Nematic Panel (TN) is cost-effective and responsive. However, it does reproduce colours with the same magnificence as expected from 4K gaming monitor and its viewing angles are also restricted.
In-Plane Switching (IPS) panel has the best viewing angles and offers a high-end picture quality that showcases vibrancy of colours. However, IPS is less responsive than TN. The Vertical Alignment (VA) panels are better in terms of viewing angles but do not produce as high-quality visuals as IPS. Usually, gamers who need higher refresh rates but are not concerned about the colours opt for TN panels and those who are more particular about the colours use IPS panels.
Resolution and Screen Size
Besides the display, the size of the monitor makes a big difference to the gaming experience. Thus, you must pay attention to the screen size which should range between 21 to 27 inches, which is perfect for gamers who like to see things big and clear. Some people want to get the feel of a home theatre system and use the biggest screen available. The choice entirely depends on the comfort of the user.
Response Time
Pixel Response Time is the amount of time taken by one pixel to change its colour. It affects the clarity of the moving objects on the screen. So, if the response time of the monitor is higher, it will not be able to reproduce fast moving objects accurately. These will appear as blurred on the screen or create ghosting effect that can be annoying for the users.
Thus, the lowest possible response time is considered the most satisfying by gamers. At present, the lowest time that you can get is 1 millisecond from TN panels. The IPS panels provide only 4 milliseconds. People who are not professional gamers and do not play games with fast-moving graphics can also settle for 8ms to 15ms response time.
Monitor Refresh Rate
The higher the refresh rate, the better is the gaming experience. Monitors with high refresh rate are apt for games that need speed and competitive playing. Most gamers recommend using 144Hz or 165Hz for routine games. However, if you are a competitive player, you will need 240Hz or 360Hz. Though, you will have to deal with lower resolution and pay more for the monitor.
Cooling
Heating up of the device is a common problem that most gamers face if they do not check this specification at the time of purchase. Overheating can lead to increased lag time if the gamer is overclocking and can even lead to damage of some parts that need to be replaced. In addition, if the device starts overheating, the fans start working faster and create a lot of noise.
If you are buying high-end CPU and GPU, you need to make sure that you invest in the cooling feature because the system can generate a lot of heat. You can choose between TDP air coolers and AIO water coolers for this purpose. The liquid coolers are a bit expensive but offer low noise and features like RGB lighting. Make sure that you check their warranty period to ensure durability.
Best Gaming PC To Buy in 2022
Prebuilt gaming PCs are becoming increasingly popular because of their affordability and state-of-the-art specifications. It can be challenging to customise every part of the system. Thus, buying a computer that has been specially designed for gaming makes more sense. Let us look at the best gaming PC to buy in 2022.
CyberpowerPC Gamer Xtreme VR Gaming PC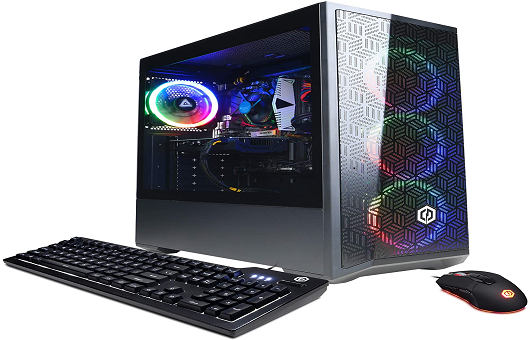 The prebuilt Cyberpower PC comes with high quality components including the CPU of Intel Core i5-10400f and GPU of Gigabyte GeForce GTX 1660 Super 6GB dual fan. The perfectly built machine has a Ballistix 3000mhz CL15 8GB DDR4 RAM and WD Blue SN550 500 Go NVMe storage drive. The operating system is Windows 10 Home 64-bit, and you get 4 RGB fan with remote control, with exceptional cases for the flow of air. The device allows you to play high resolution games in 1080p and makes cable management super easy. The package includes all the accessories and the case. The highly rated product offers the flexibility to upgrade RAM because 8GB is often considered low. Also, you will have to deal with noisy fans with this PC. Otherwise, this is the best option to get bang for your buck.
Buy Now
CORSAIR Vengeance 5182 Gaming PC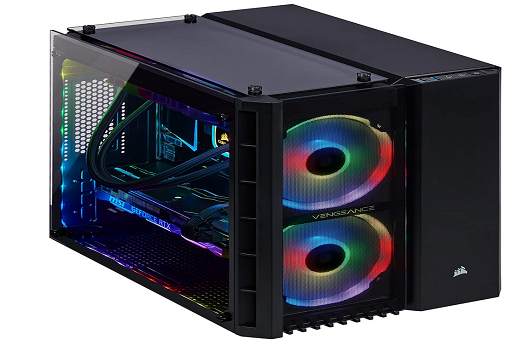 If gaming is a passion for you but you do not want to spend too much on the PC, you can opt for the CORSAIR Vengeance 5182. It comes with an Intel 9th Gen Core i7-9700 eight-core CPU that makes you play at high speeds of up to 4.7GHz because of its lightning-fast performance. The powerful hardware does not have any peripherals but has lighting effects that can be customised. It includes the NVIDIA GeForce RTX 2070 Super graphics card that creates lifelike graphics and smooth frame rates. Its 16 GB RAM is perfect for gamers and does not need upgrading. In addition, the CORSAIR iCUE software helps check the system's performance and promptly syncs RGB lighting across all the compatible CORSAIR RGB products, such as the coolers, fans, and DRAM. You can give your gaming zone a boost with this functional and effective device.
Buy Now
HP OMEN Obelisk Gaming Desktop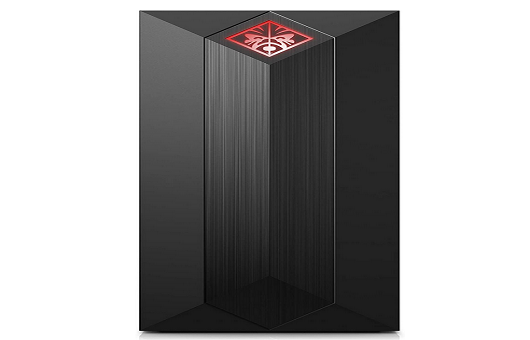 HP is a name to reckon with in the PC industry and it has now introduced a HP Omen gaming PC that offers superior performance. Loaded with cutting-edge hardware, it can be easily upgraded. Working on an AMD Ryzen (TM) 5 2600 Processor with 6-cores and 3.40 GHz, it is powers up the system effectively. Whether you are playing a challenging game or a subtle one, the graphics offered by NVIDIA(R) GeForce(R) GTX 1060 are suitable for all HD games. The prebuilt system aids in customising RGB lighting and even screen the game on your LED TVs with the OMEN Game Stream service, which is completely free. The purchase includes a keyboard, mouse and tempered glass panel on the CPU to give a peek into the internal machinery. It is known to provide exceptional viewing and FPS that makes gaming engaging and enthralling.
Buy Now
iBUYPOWER Gaming PC Computer Desktop Trace 4 9310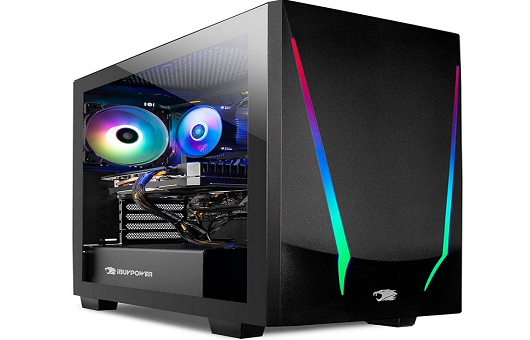 Suitable for gaming and business, the iBUYPOWER Gaming PC is a sturdy and useful machine that is geared with MD Ryzen 5 3600 3.6GHz, 8GB DDR4 RAM, 240GB SSD and Windows 10 Home 64-bit operating system. The picture quality is vivid because of MD Radeon RX 5500 XT 4GB dedicated graphics card, and you can even use it with your VR. The additional features of this device include tempered Glass RGB Case, 16 colour RGB lighting case, keyboard and mouse. It has the required airflow and offers value for money with its one-year warranty.
Buy Now
Skytech Archangel Gaming Computer PC Desktop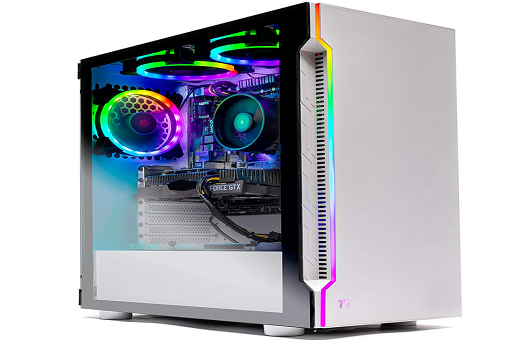 Loaded with AMD Ryzen 5 3600 6-Core 12-thread 3.6GHz CPU, the Skytech Archangel Gaming PC includes the 30 times faster SSD of 500 GB. Designed to play games without breaking the bank, this machine has the GeForce GTX 1660 6GB GDDR5 Graphics Card, 8GB DDR4 3000MHz gaming memory and Windows 10 Home 64-bit operating system. Its three RGB ring fans provide superior air flow, and the tempered glass look makes it sleek and stylish.
Buy Now
ASUS ROG Strix B550-F Gaming PC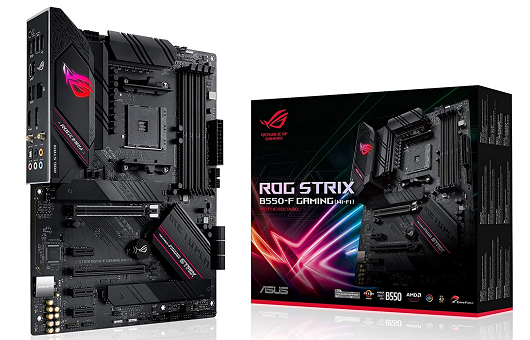 Gaming fanatics with a lower budget can grab ASUS ROG Strix B550-F that brings the brilliance of Zen 3 Ryzen 5000 and 3rd Gen AMD Ryzen. The ASUS OptiMem provides high memory frequencies at lower latencies. The best part about this PC is that it provides the highest storage flexibility and quickest data speeds through the 3rd Gen AMD Ryzen platform. It has optimised thermal solution that includes tailored fanless VRM and chipset heatsinks with ASUS Stack Cool 3+ design help to run the system without any hassles.
Buy Now
ACER Nitro 50 N50-620-UA91 Gaming Desktop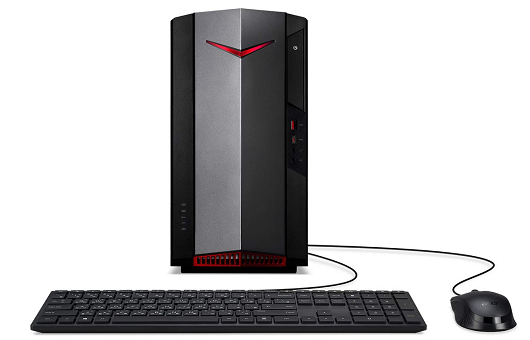 The name ACER and 11th Generation Intel Core i5-11400F 6-Core Processor make the ACER Nitro gaming PC a highly recommended device. Geared with 8GB DDR4 2666MHz Memory (expandable to 64GB) and 512GB NVMe M.2 SSD, it offers great performance and speed. The NVIDIA GeForce GTX 1650 Graphics with 4GB of GDDR5 Video Memory is suitable for an engrossing viewing experience. In addition, features like DTS X: Ultra Audio and Realtek 8118AS Dragon 10/100/1000 Gigabit Ethernet bring perfection to your high-level games. The package includes a keyboard, power cord and a mouse.
Buy Now
Vibox Standard Package 3 Gaming PC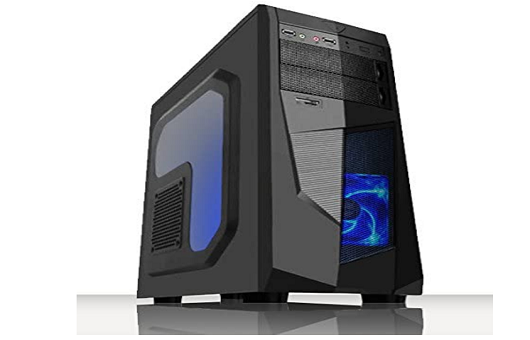 The Vibox Standard Package 3 Gaming PC comes with the Warthunder Game Bundle, 21.5 inches HD monitor, headset for gaming, keyboard and mouse. Thus, you do not have to purchase these items additionally. It offers amazing speed because of its 3.1GHz AMD A8 Quad-Core Processor CPU/APU (3.8GHz Turbo Speed) and world-class picture quality with the presence of AMD Radeon HD Integrated Graphics Card Chip. The 8GB of DDR3 1600MHz RAM Memory is apt for high performance and the 1TB SATA-III 7200rpm hard drive storage space makes things easy for the gamer. It is a low-cost PC that offers improved graphics for multimedia and can be utilised for gaming, office and personal use.
Buy Now
Thermaltake Computer System Genesis PRO V2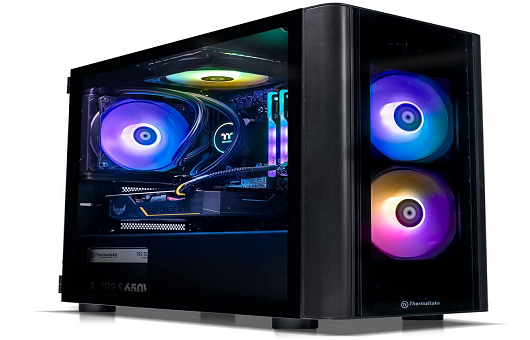 The Genesis Pro V2 offers a stunning gaming experience with its 6-core AMD Ryzen 5 3600 processor. The powerful machine includes the NVIDIA GeForce GTX 1660 SUPER that enhances the horsepower needed to enjoy an appealing game. The CPU is another attractive part of the system that is geared with a CPU liquid cooler, RGB RAM and fans. The 16GB RGB DDR4 3200MHz Memory ensures the best gaming quality with maximum performance output. You will not have to worry about slowing the system as the highly swift SSD offers faster loading time. Thus, you can go straight to the game without any lag or delay.
Buy Now
Bang & Olufsen Beoplay H8i Wireless On-Ear Headphones
Dell XPS 8940 Tower Desktop Computer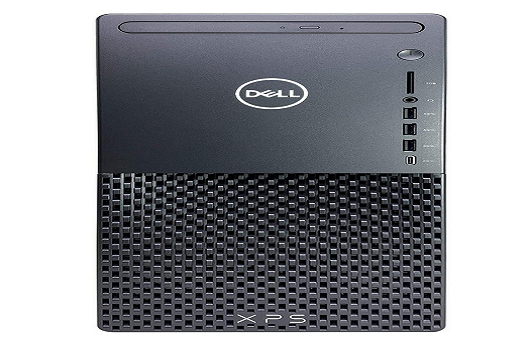 The Dell XPS 8940 gaming PC comes with the new 10th Gen Intel Core processor that helps in playing high-quality games as well as completing editing photos and videos. The high performing PC has the speed and the power to allow the best gaming encounters. Its design maintains the cooling in the system with perfect flow of air from the front to the back. Also, it includes a voltage regulator cooling with select processors that make all the components amply cool while the computer is working with heavy loads. Despite the cooling mechanism, it does not make much noise and is apt for any environment like home, office or gaming arena. Other features include a 64 GB RAM, Windows 10 operating system, tower design, Intel UHD Graphics 630, and 1TB SSD + 1TB Hard Drive.
This comprehensive list includes all the prominent brands and varieties of gaming desktops in different price ranges that can be easily bought online. Make sure that you check the specifications and make an informed decision keeping in mind your needs.
Buy Now
Benefits of Buying A Gaming PC
It is better to choose a prebuilt gaming desktop than running from pillar to post to find different components and assembling the device. When the company assembles the parts, it becomes a highly beneficial proposition because of the following reasons:
Reasonably Priced
PC manufacturing companies have easy access to all the components in bulk and do not have to purchase single items to build a PC from scratch. Also, many of the brands partner with each other to use the components and market them to get better sales. They can provide a lower price point because they buy these parts in bulk and get discounts from the suppliers.
Saves Time and Effort
When you have to go out and find every component on your own to get the system assembled, it is a tiring and time-consuming process. You need to look for different specifications for speed, cooling, performance, graphics, etc. With the manufacturer doing all the hard work, you just have to click the button of a mouse on the internet and get the PC delivered to your doorstep without any stress.
Choose the Right Option
The gaming PCs market has become highly diversified, and you can find desktops that are suitable for several kinds of work, such as gaming, personal, business, accounting, etc. Also, the buyers can choose from an entry-level and a high-end machine to suit their requirement. However, when you are a beginner in the gaming arena, you may not know about the right components needed to build a gaming PC. Thus, they can find a perfect device without doing the required research.
Designed to Perform
Gaming PCs are a new category in the segment of computers that have been designed specifically for gamers. These are loaded with cutting-edge technology and features that allow them to perform optimally without any distortions, lags and loading speed. From ultra-high definition to excellent frame rates, you can expect the best attributes in these machines that allow you to play like never before. You can enjoy bright, vibrant and stunning visuals with powerful sound effects and controls.
Customer Support
Computers that are manufactured for gaming purposes come with a warranty and technology support after the sale. On the other hand, if you build a computer choosing your own components, it is highly likely that you may need technical assistance as the system may give initial trouble. You will need to pay more to get things sorted on your own. However, prebuilt computers will not incur such costs.
Additional Features
With customised machines, you have to buy everything at an extra cost like the operating system, keyboard, mouse, etc. However, with store bought products, you get the software installed in the system and drivers for the keyboard and the mouse. Some of the gaming PCs also come with an anti-virus installed in the system that makes it easy to start playing as soon as you purchase the computer.

Frequently Asked Questions about Gaming PCs
If you are planning to purchase a gaming PC in Australia, you will have several questions related to hardware and specifications. Let us help to answer a few of them.
Why Are Gaming PCs Considered Better Than Consoles?
Across the world, hardcore gamers prefer using a gaming PC for competitions or a powerful gaming experience. The foremost reason for this is that desktops offer enhanced graphics over consoles which are clear, vivid and sharp. Also, they have superior processors that make them stronger than the latest consoles. Another thing that pro gamers love is that they can upgrade the computers whenever they want and do not have to discard the machine to go a level up. It saves a lot of money in comparison to consoles which become obsolete after the launch of next-generation products.
Which Are the Commonly Upgraded Components in Gaming PCs?
Most professional gamers upgrade three components of their gaming PCs – GPU, RAM and SSD. While GPU is for improved visual quality, higher RAM ensures fast data transfer for better experience and SSD offers faster speed and durability.
How Much RAM is Needed for Gaming?
While 8 GB RAM is considered enough for beginners, 16 GB is meant for those who need to play heavy-duty games with high number of frames per second. Anything beyond 16 GB may not be useful for the users. A 32 GB RAM will help to increase the shelf-life of your system and use other programs on the computer simultaneously while gaming. The 64 GB RAM is only needed by graphic designers and video editors and are not useful for gamers.
How to Buy A Headset for Gaming?
The headsets that are designed for long hours of playtime and are comfortable to wear are your best choice. They should have crystal clear sound quality and allow you to communicate with your team members or opponents during the game. Many of the professional gamers prefer using noise cancelling headphones. However, make sure that you find a light headset that can be worn for long time and its pads are made from breathable material. It is better to opt for wired headsets over wireless because they are lighter, cheaper and are not dependent on batteries.
Which Gaming Mouse is the Best?
The gaming mouse selection depends on the size of the device. It should fit perfectly in the palm and offer an ideal grip and fingertip control to the user. The sensitivity of the mouse is defined as Dots Per Inch (DPI). The higher the DPI the more sensitive will be the device. Also, take the battery life into consideration while choosing the mouse.
What Is a VR Gaming PC?
Gaming PCs that are suitable for playing virtual reality games are called VR gaming PCs. They are compatible with the latest VR headsets and reproduce exceptional graphics and frames per second that offer an intense virtual experience to the gamers. These PCs contain VR compatible chips and fans to maintain the temperature of the system and make it a seamless experience.
Endnote
Gaming has come a long way from the traditional video gaming days. PCs built for this purpose offer astounding playtime which remains unmatched and flawless. If you know the type of machine you need for your gaming requirements, you can easily pick the best gaming PC.